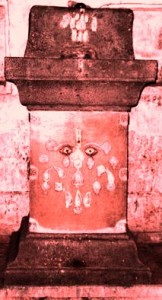 ॥ आसेतोरातुषाराद्रेर्योदिशो जितवान् मुहुः।
सत्यध्यानगुरुः पातु यतीन्द्रैरपि पूजितः॥
ಅಸೇತೋರಾತುಷಾರಾದ್ರೇರ್ಯೋದಿಶೋ ಜಿತವಾನ್ಮುಹು: |
ಸತ್ಯಧ್ಯಾನಗುರು: ಪಾತು ಯತೀಂದ್ರೈರಪಿಪೂಜಿತ: |
asEtOraatuShaaraadrEryOdishO jitavaanmuhu: |
satyadhyaanaguru: paatu yatIndrairapipUjita: |
అసేతోరాతుషారాద్రేర్యోదిశో జితవాన్ముహు: |
సత్యధ్యానగురు: పాతు యతీంద్రైరపిపూజిత: |
SRI SATYADHYANA TIRTHARU
Birth Place  :  Chikkodi
Poorvashrama name : Sri Sethuramacharya Korlahalli
Birth – 24.12.1872
Ashrama Sweekara – 1911
Vrundavana Pravesha – 24.03.1942
Vrundavana – Pandarapura
Aradhana – Chaitra Shudda Astami
Father – Sri Jayaramacharya (Sri Satyadheera Tirtharu)
Mother – Smt Krishnaba

i
Wife – Savitri Bai
Ashrama gurugalu – Sri Satyajnaana Tirtharu
Ashrama Shishyaru – Sri Satyaprajna Tirtharu
Parampare :

Sri Satyaveera Tirtharu
|
Sri Satyadheera Tirtharu
|
Sri Satyajnaana Tirtharu
|
Sri Satyadhyana Tirtharu
|
Sri Satyaprajna Tirtharu
He was the Vidyagurugalu for his ashrama gurugalu –   Sri Sethuramacharya (in his poorvashrama) was the vidya gurugalu for Sri Kinhal Gangur Jayacharya, who later took ashrama from Sri Satyadheera Tirtharu.  Sri Satyajnana Tirtharu in turn gave ashrama to Sri Sethuramacharya as Sri Satyadhyana Tirtharu.  So, he was the vidyagurugalu for his ashrama gurugalu
His Vidyagurugalu –
He learnt various subjects under various gurugalu :
Sri Ramacharya Rangampet @ Surpur – Nyayashastra
Sri Satyadheera Thirtharu – Srimanyayasudha
Sridharacharya Talwalkar – Nyayamruta, Tarangini, Chandrika, etc
Profession – He was made the Diwan of Uttaradimutt.  After taking charge as Diwan, he was also doing paata/pravachana on various subjects.  He took care of the Vidwan's stay/food/education, etc.  After taking sanyashrama  Sri Satyadhyana Teertha donated all his estate estimated around Rupees Three Lakhs (valuation prevailing at that period) to Sri Uttaradhimatha.
Notable Sanyasashrama Shishyaas –
Sri Vidyamanya Tirtharu of Bandarakeri Mutt

Sri Lakshmeesha Tirtharu of Kundapura Vyasaraja Mutt

Sri Vidyasindhu Tirtharu of Subramanya Mutt

Sri Lakshmeendra Tirtharu of Shiroor Mutt

Sri Pradyumna Tirtharu of Sagarakatte Mutt

Sri Satyaprajna Tirtharu

Sri Satyabhijna Tirtharu

Sri Raghukantha Tirtharu of Akshobhya Tirtha Mutt

SriGoswami Gokulnathaji Maharajaru(Jagadguru Vallabhacharya Peeta)

Sri Raghudaanta Tirtharu of Tankaswali Mutt

Sri Raghuveera Tirtharu
Notable Gruhasta Shishyaas :
Sri  Jalihal Srinivasachar
Sri Mahuli Gopalacharya
Sri Kinhal Gangur Jayacharya
Sri Pandurangi Jayacharya
Sri Varkhedi Narasimhacharya
Sri Doddaballapura Vasudevacharya
Dr BNK Sharma
Sri Chaturvedi Ramachandracharya
Sri Yelemeli Vasudevacharya
Sri Adya Tatacharya
Notable conversions from other mathaas –
Sri M R Sharma
Sri Sowkar Ramanna
Sri H Subbarao
Sri V N Deshikacharya
CHANDRIKA MANDANAM –  An advaitee scholar Ramasubbashastry of Kumbakonam wrote a book condemning "Chandrika" of Sri Vyasaraja Tirtharu with the title "Chandrika Khandanam".  That advaitee managed to send that Chandrika Mandanam book to Sri Satyadhyana Tirtharu.   As soon as he received that book, he gone through the book, with each and every aspect and started writing the Khandanam for that Grantha.  He started replying immediately postponing his bath and pooja.   Sanyasashrama dharma says if any Khandana Grantha is written for Acharya Siddantha, the same should be condemned immediately lest the sanyasa dharma itself is in vain. After snaana, pooja and theerthaprasada, he again continued the book and within a short period he completed the book and gave the title "Chandrika Mandanam".    He also sent a copy of the book to Ramasubbashastry who was in Kumbakonam.
But he did not replied for the "Mandanam" by Sri Satyadhyana Tirtharu.  Then Swamiji sent an advocate from Madras High Court to the place of Ramasubbashastry and invited him to meet the swamiji at  Padmasarovara where Swamiji was staying at that time.  But the Shastry avoided by replying, that he does not like to debate with a sanyasi and did not go with him.    Then swamiji called for a great Sabha at Tiruchanoor and invited all the religious sectors from Advaita and Vishistadvaita apart from Dwaitha pundits.   The sabha was attended by more than 1000 pandits, people from all over the country.    Swamiji inaugurated the book titled "Chandrika Mandanam",   The Chandrika Mandanam has three parts, in the first part he has described that the Advaita has no base in Shruti and smriti.    In the second part, he has condemned the comments on Chandrika.  In the third part, he has explained as to how Sri Vyasaraja's Tatparya Chandrika is superior to any other.
"Advaita matha is avaidhika."
– an open statement by Sri Satyadhyanaru @ Mysore
–          Sri Satyadhyana Tirtharu declared that the Advaitha Matha is an avaidhika matha and not supported by any Vedaas.  This statement made the advaitees very angry and they called a sabha of all the advaithees all over the country.  They further gave a press statement in all leading news papers, that the statement by the swamiji will be condemned.  But no one did came to Swamiji for a debate on his statement.    After 6 months, many advaitees came to Swamiji for Mudradharane and accepted the dwaitha matha upadesha.
–         He was termed as "RAKSHASA DWAITA PANDITA" – He was seen as a lion to all those who came for an argument with him.  He used to look like demon for them who could not sustain his in depth knowledge about all shastras, including their own Advaita shastra
Some of the achievements of Sri Satyadhyana Tirtharu –
He defeated Chandrashekara Bhatta, an advaita pandita on his way to Kaashi

He went to Madras and defeated Mahamahopadyaya Harishastri

In Kumbakonam, he argued with Sri Sheshacharya, an Vishishastadvaita pandit on "Whether there is taaratamya in Mukthi also" and proved that there is taaratamya in Mukthi.

Discussion with Balagangadhara Tilak over "Geetha Bhashya" –  Once When Balagangadhar Tilak, a famous freedom fighter was in Jail, he had written a book titled "Geetha Rahasyam", wherein he had expressed his displeasure over Acharya Madhwa's Geetha Bhashya.  When Sri Satyadhyanaru noticed this, he immediately called for Vagvada, which Tilak happily agreed to meet at Chickodi.  There after a lengthy discussion between Sri Satyadhyanaru and Sri Balagangadhara Tilak, for more than 3-4 days. The entire doubts raised by Tilak over Srimadacharya's Geetha Rahasya were cleared to everybody's satisfaction and Tilak was fully convinced and accepted that Madhwa Siddantha is great.   Tilak asked swamiji as to what was the necessity for Krishna to preach Arjuna the "Geetha"in the Kurukshetra.   Swamiji told Tilak that Lord has been always with the Dharma and he has punished those who are against it. The battlefield was the right place for Arjuna to preach the same and win over the Kauravas who were totally against the Dharma. To this he asked Tilak who was the fortunate person to listen this live? Tilak was surprised and was  quite for some point of time. To this Swamiji again informed him it was Kapiraja Lord Vayu in the form of Mukhyaprana Devaru who was on the flag (dhwaja)  of Sri Krishna and Arjuna's chariot who has listened all what has been preached by Lord Krishna to Arjuna directly.  The swamiji also gave proofs that our Srimadacharya was the incarnation of the Mukhyaprana.   The 17th April 1917 issue of "Kesari" newspaper, published by Balagangadhar Tilak, carried a detailed report of this historic meet at Chikkodi.

Angara – Akshate Dharane by Tilak –After getting convinced fully about Madhwa Siddantha, Sri Balgangadhar Tilak was very happy and once he arranged a bhiksha for the swamiji @ Tulasi Bagh in Pune.   That day Lokmanya Tilak applied Angara Akshata and this was widely published in next day's edition of Bhopatkar's Bhala Newspaper.
"TILAKANI KALIREKHA ANGARA AKSHATA ODHALI" were the headlines.Which means Tilak has applied a black line called Angara and Akshata

.
Granthas by Sri Satyadhyana Tirtharu –
Civil Suit – Here the grantha is in the form of conversation – argument between two layers.    The argument topic consisted of Veda, shastra, and Upanishat.   This grantha, even though the name looks like an English book, it is completely in Devanagari language.
Sabhasara Sangraha – Here swamiji has answered some of the questions raised by the people in various cities over Daivika and dharmika topics.
Geetha Pratipadartha Chandrika – Here Swamiji has given the meaning of each and every word of Bhagavadgeetha and summary as per Madhwa Philosophy.
Geetha Saara Sangraha – Here Swamiji has explained about the tathvaas –  Jeeva, Jagath and Jaganniyamaka Srihari as per Geetha.
Geetha Lekhana Maala –  Here he has answered the queries/objections raised by Balagangadhara  Tilak in "Geetha Rahasya" against Srimadacharya's Geetha Bhashya.  This book contains the articles by Satyadhyanaru in "Sri Madhwa Siddaantha Sudhakara", a Marathi News Paper.
Bhasma Dharana Nisheda tathaa UrdvapuNdra DharanaM –  In this book Swamiji has clarified that Bhasma Dharana is void and Urdhvapundra Dharana is shastreeya.
Sudarshana Mahatmya –  Here swamiji has explained about Mudradharana and tapta shanka shanka Dharana.
8. Advaita Mata vimarshamaala
Bedha paraaNyEna Kalu brahma Sutraani –  Here  he has explained that "Bedha Tathva" is the moolabhoota tatva and he has proved that every soothra has proof from Shankara Bhashya.  That is Shankara Advaitha vaada itself proves that "bedha Tathva" is supreme.
Chandrika Mandanam –  This is a grantha written for the Khandana of a grantha by an advaitee "Chandrika Khandana".    Ramasubba shastry of Kumbakonam wrote a book condemning the Tatparya Chandrika of Sri Vyasarajaru.  As soon as he got the copy of the Khandanam by an advaitee on Vyasaraja's Tatparya Chandrika, he studied the entire writings of the advaitee vidwan and Sri Vyasaraja's original Tatparya Chandrika.  He has condemned each and every objection by Ramasubbashastry and published the greantha "Chandrika Mandanam" in support of Tatparya Chandrika.
Apart from the above, Sri Satyadhyana Tirtharu got the following books from some of his shishyas during his period.
Dwaita Darshana – by Sri Varakhedi Narasimhacharya

Advaita Bhranti prakasha – by Sri Varakhedi Narasimhacharya

Advaita kapola cha petika – by Sri Varakhedi Narasimhacharya

Sambagala Hastika – by Sri H Subbarayaru

Sambha Bhanjana – by Sri H Subbarayaru

Dwaita Vijaya Dundubhi

Dwaita Philosophy
Granthas on Sri Satyadhyana Tirtharu :-

Sri Satteesudhaa – by Adya Anantacharyaru in Kannada in 1936
Sri satyadhyaanara dakshiNa dEshada digvijaya athavaa dvaita vijayaa dundubhi – by Bheemacharya Kanchi in Kannada in 1948
Sri Satyadhyana Vijaya – by Sri Katti Keshavacharya – in Kannada – in 1947 – in Shatpadi mahakavya
Guruvaarada haadu – by Katti Keshavacharya
Sri Satyadhyana Vijayam – by Katti Keshavacharya – in Sanskrit
Sri Satyadhyana Digvijaya Mahakavyam – by Kashi Krishnacharya – in 1949 – in Sanskrit
Sri Satyadhyanara charitre by Chikkerooru Govindacharya in 1961 in Kannada
Sri Satyadhyana Tirtha Charitre by Ramacharya Avadhani in 1968 in Marati
My Master – by Mahuli Gopalacharya in English
Abhinava Anandatirtha – a souvenir
Sage Sathyadhyana Tirtha
Guruvaibhava Mahakavyam by Jalihal Srinivasacharya in 1971 in Sanskrit
Sri Satyadhyana Suprabhata shataka by Galagali Ramacharya in Sanskrit
Sri Satyadhyana Shatakam by Pandarinatacharya Galagali in 1971 in Sanskrit
Sri Satyadhyanaru – by Malagi Jayatirthacharyaru in 1970 in Kannada
Sri Satyadhyanara nudimuttugalu by Malagi Jayatirthacharya in 1979 in Kannada
Sri Satyadhyana Jeevanarashmi by Malagi Jayatirthacharya in 1990 in Kannada
Sri Satyadhyanara sandesha by Hanumeshacharya in kannada in 1975
Sri Satyadhyanaru by Sri Aravatti in 1974 in Marati
Satyadhyanaru – His Special characters –
Once in Kolhapura, his disciples were attracted in the market for the "Garam Chooda".   But they could not buy the items being sold in shops.  Satyadhyanaru on noticing this,  after reaching Dharwad, got prepared Garamchooda exclusively for his students by bringing Grapes, anjura, avalakki, godambi and made his students to have the taste of Garam chooda in the mutt itself
If any body gives fruits to the swamiji, he used to distribute amongst his disciples.
He used to respect the pundits of other mathaas also.  He was vidyapakshapathi.
Once when he was doing the pooja in a king's place.  The king could not come in time before the pooja.  Swamiji finished the pooja and packed the idols.  After that the king turned, but it was all over.  The king repented for having come late.  Swamiji told " We can wait for the king, but Sriramachandra devaru, can't wait for you".  The king agreed and repented.  Next day, the king was very much in time to see the entire pooja and got the devata darshana and theerthaprasada.
Once in Bagalkot, a lady had gone with her neighbour with her mother-in-law's permission.  Because of heavy rush, she lost a bag wherein she carried the sarry given by her mother-in-law. She was worried that her in law would scold her and was searching.  Somehow, Sreegalu came to know about the incident, asked his disciples to bring two good sarees and give it to her.
Once he was giving "dakshine" during bhojana to all the people in the pankthi.  His shishya was carrying the plate which carried the dakshine. But somehow the entire dakshine in the plate fell on a plantain leave of a lady inadvertently.  Swamiji did not even scold the shishya and asked that lady to retain the entire dakshine.  Actually that lady was a very poor lady and this dakshine helped her a lot for family maintenance.
LOCATION OF THE MUTT @ PANDARAPUR –
DATTARGHAT, PANDARAPURA-413304
VRUNDAVANA POOJA &  MAINTAINED BY
BHEEMASENACHARYA VARKHEDI
(Source – Uttaradimutt, Kale Balakrishna and several other articles)