Please visit the website
www.gyanasampat.in
The complete list of English books (212 books) can be downloaded –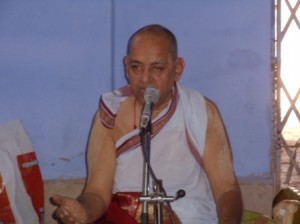 A/C NAME  :  VITTAL ASSOCIATES
a/c no       :  11012996299

BANK         :  STATE BANK OF INDIA
PLACE       :  COIMBATORE
IFSC CODE :  SBIN0004792
EVEN FOR THOSE WHO WANT SPECIFIC BOOK ATTACHED IN THE LIST ALSO MAY GET THE SAME BY REMITTING THE AMOUNT MENTIONED AGAINST IN THE ATTACHMENT.
CONTACT DETAILS :  SRI T S RAGHAVENDRAN
PHONE 0422-2441706  (RESIDENCE – AFTER 5PM)
PHONE 0422-2346579  (MORNING 11 AM TO 5 PM)  OFFICE
0422-2344853  (MORNING 11 AM TO 5 PM)  OFFICE
Those who would like to send DD/Cheque also can send to :
VITTAL ASSOCIATES,
NO.598, TELUGU BRAHMIN STREET,
COIMBATORE – 641011
Sri T S Raghavendran, M.A., B.L., a famous grantha kartha of Madhwa Philosophy.  He has written more than 193 books on various concepts of Madhwa Philosophy, like Harikathamrutasara, Ramayana, Bhagavatha, Mahabharatha Tatparya Nirnaya, Various Kshetras, Various grantha karthas of Madhwa Philosophy, etc.,  ALL THE BOOKS ARE IN ENGLISH (Except Three in Tamil).
I have attached herewith the list of Granthas available with him.  All the books are available at Coimbatore.  Within another two years, he is writing entire translation of Srimanyaya sudha to English and would be available for the Madhwas and for the life members, the same also would be sent.
For those who would like it to be delivered at their place, can send the amount through NEFT Banking, they will arrange despatch of books.
SPECIAL OFFER –    YOU CAN BECOME LIFE MEMBERS BY SENDING RS.15000/-
(OFCOURSE YOU CAN SEND THE SAME IN FIVE INSTALMENTS AS PER YOUR CONVENIENCE).
THEY WOULD BE SENT IN ALL THE BOOKS (total 211)  PUBLISHED SO FAR ++ THE BOOKS TO BE PUBLISHED IN FUTURE ALSO.
THEY WOULD BE SENT THROUGH COURIER AT YOUR PLACE.
THOSE WHO NEED SPECIFIC BOOKS ALSO CAN BUY SPECIFIC BOOKS OF THEIR CHOICE.  
Those who would like to send DD/Cheque also can send to :
VITTAL ASSOCIATES, NO.598, TELUGU BRAHMIN STREET, COIMBATORE – 641011
ANY QUERIES CAN BE CONTACTED PERSONALLY OVER PHONE TO SRI T S RAGHAVENDRAN