Sri Varadendra Tirtharu
Aradhana – Ashada Shudda Shasti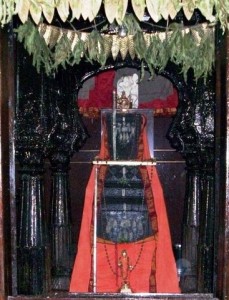 (moola Vrundavana @ Pune)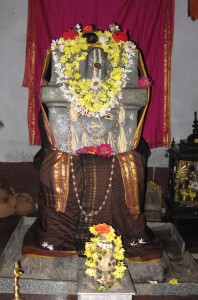 (Mruthika Vrundavana @ Lingasugooru)
Click for Varadendra vijaya by Sri Prasanna Srinivasa Daasaru
Click the link for Varadendra Tirtha Vrundavnakyana

Dhyaana Sloka:
vaadE vijayasheelaaya varadaaya varaarthinaaM|
vadaanyajanasiMhaaya varadEMdraaya tE nama:|
ವಾದೇ ವಿಜಯಶೀಲಾಯ ವರದಾಯ ವರಾರ್ಥಿನಾಂ|
ವದಾನ್ಯಜನಸಿಂಹಾಯ ವರದೇಂದ್ರಾಯ ತೇ ನಮ:|
वादे विजयशीलाय वरदाय वरार्थिनां। वदान्यजनसिंहाय वरदेंद्राय ते नम:।
Period – 1761-1785
Poorvashrama Name –  Balaramacharyaru

Ashrama Sweekara – Ashwija Bahula Saptami Vrusha Samvatsara (1761)
Ashrama Gurugalu – Vasudendra Theertharu

Ashrama Shishyaru – Sri Bhuvanendra Theertharu
Vrundavana – Poona
Apart from the Moola Brindavana of Sri Varadendra Theertharu and a Mrutika Brindavana of Raghavendra Theertharu right on top of it!
Above these two Brindavanas is of course a customary  idol of "Mukya Prana Devaru".
Mruthika Vrundavana – Lingasugooru.

Swapna Vrundavana

–
Initially Sri Varadendraru asked Praneshadasaru to give as "Daana" the land belonging to Praneshadasaru, which he did with great devotion to Sreegalu and Sri Moola Ramachandra Devaru.
Subsequently after attaining Nirvana, he came in his dream and told Praneshadasaru that his vishesha sannidhana is there in the Tulasi plant which was there in the donated place.
After some time, Sri Varadendra Tirtharu again came in the dream of Praneshadasaru and told him to do prathiste of his Mruttika Vrundavana in the same place where Tulasi Plant was there and that he had told him a date and time also for the Mruttika Vrundavana prathiste.    Sri Bhuvanendra Thirtharu, his successor had to come for Prathiste.   But due to overflooding in the Krishna River, he could not come in time, and as the time was nearing, Praneshadasaru did the Mrithika Vrundavana Prathiste himself, which Bhuvanendra Thirtharu also gave consent.
As such,  Sri Praresha Dasaru himself made the prathistapane of Sri Varadendra Theertharu at the pre-decided time.   That is why the Vrundavana @ Lingasugooru is popularly called as "Swapna Vrundavana".
"SAPTAMO MATSAMO YOGi VARADENDRO BHAVISHYATI" –  Sri Rayaru had told that seventh after him will be equal to him.    And it is Varadendraru.
He was a great scholar. A well known victor in debates. The Mutt saw all round development during his period.

Sri Venugopalacharyaru is the Poorvashrama Brother of Vadeendraru.  Venugopalacharyaru had three sons, all the three became sanyasis of Rayara Mutt Parampare in different period.  They are :
1. Purushottamacharyaru         –  Sri  Vasudendra Theertharu
2. Balaramacharyaru                  – Sri Varadendra Theertharu
3. Lakshminarayanacharyaru   – Sri Bhuvanendra Theertharu
Sri Vasudendra Theertharu was instructed by his Gurugalu to give Ashrama to Sri Jayaramacharyaru (later he himself took ashrama in front of Vijayeendraru and was called as Dheerendra Theertharu).  But he could not trace him when he was about to give the ashrama, so, he gave ashrama to Varadendra Tirtha and instructed him to give Ashrama to Jayaramacharyaru.  He also could not trace him when he was about to give ashrama, so he gave  ashrama to his brother Lakshminarayanacharyaru and named him Bhuvanendraru with an instruction to give ashrama to Jayaramacharyaru.    By this time, Sri Jayaramacharyaru took ashrama in front of Vijayeendraru and was called as Dheerendra Theertharu)
Granthagalu  –
Deva Pooja Paddathi (in Sanskrit)

Tantrasara (Kannada)
Other Achievements –
1.  In Pune, which was under the control of Peshwas, a famous advaitha Pandita by name Ramashastri challenged Sri Varadendra Theertharu.    Vakyaartha went on,  Sri Varadendra Theertharu defeated him,  and Ramashastri gave the position of his residence as per the agreement before the Vakyaartha.

2.  Somaraja, another Nayaka (the leader), gave Bhoodana in 1774.
3. Veera venkata Tirumalaraya and Balasath Jang Bahadoor handed over the possession of Dhanapura Grama in 1769 to Rayara Mutt.
4.  Like Vyasa Sahitya, he gave scope for Dasa Sahitya also –  He helped Jagannathadasaru and Pranesha Dasaru. Sri Jagannathadasa, a scholar in four Shastras known to be a paragon among Haridasas, did his studies under the swamiji and composed Varadendrapancharathna malike, a poem in extollation of the swamiji.  It is indeed praiseworthy that an institution to promote publication of Haridasa literature under the name Varadendra Haridasa Sahitya Mandala has been functioning at Lingasugoor even today.
5. Contemporaries – Sri Satyabodharu, Sri Dheerendraru, Jagannathadasaru, Pranesha Dasaru of Lingasugooru., Vijayadasaru, Gopaladasaru.
Alankrutha Varadendra Theerthara Vrundavana :-
There are several stotras on him.
1. Sri Varadendra Gurustotram by Sri Guru Jagannathadasaru.
2. Sri Varadendrastakam
3. Sri Varadendra Karavalambana Stotram by Guru Jagannathadasaru
4. Sri Varadendra Vijaya (in kannada) by Sri Prasanna Srinivasa Dasaru
5. " Vandane maadirai Guruvaradendrara paadirai" – by Pranesha Dasaru (devaranama).
6. " Hindina Sukarmavenu| Bandodagideyo
Naradendra raya banda Namma| Mandira kindu.||  by Pranesha Dasaru. (Devaranama)
Krishnarpanamastu