Tulasi Vivaha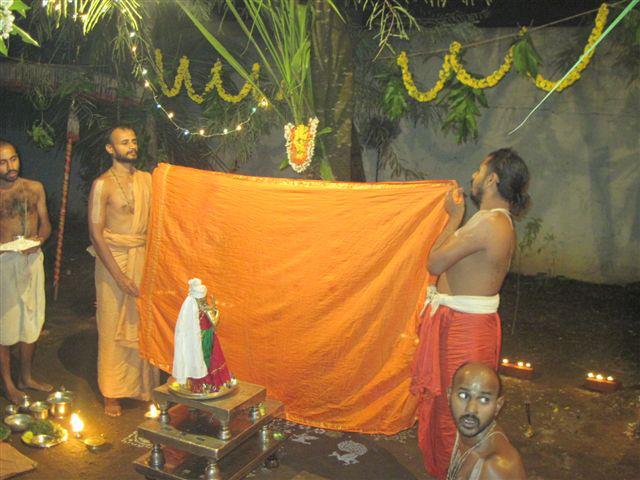 ಶ್ರೀ ಸಖಿತ್ವಂ ಸದಾನಂದೇ ಮುಕುಂದಸ್ಯ ಸದಾ ಪ್ರಿಯೇ |
ವರದಾಭಯ ಹಸ್ತಾಭ್ಯಾಂ ಮಾಂ ವಿಲೋಕಯ ದುರ್ಲಭೇ |
श्री सखित्वं सदानंदे मुकुंदस्य सदा प्रिये ।
वरदाभय हस्ताभ्यां मां विलोकय दुर्लभे ।
"ಸಕಲ ಸಾಧನಗಳಿದ್ದು ತುಳಸಿಯಿಲ್ಲದ ಪೂಜೆ ಶ್ರೀಹರಿ ಕೊಳ್ಳನು"

Importance of Tulasi (Purandara vaaNi)
ಶ್ರೀ ತುಳಸಿ ಇಲ್ಲದಿರೆ, ಶ್ರೀ ಕೃಷ್ಣ ತುಳಸಿ |  ತುಳಸಿದಳ ಇಲ್ಲದಿರೆ, ತುಳಸಿಕಾಷ್ಟ |
ಇಲ್ಲದಿರೆ
ತುಳಸಿ ಶುಷ್ಕ , ಅದು ಹಳೇತಾದರೆ ಏನು | ಅವನೀಶಗರ್ಪಿಸಬಹುದು |
ಇಲ್ಲದಿರೆ,
ಚಿಗುಗು ತುಳಸಿ ಇಲ್ಲದಿರೆ, ಮುಗುಳುತೆನೆ | ಇಲ್ಲದಿರೆ ಬೇರು, ಮಣ್ಣು |
ಇಲ್ಲದಿರೆ
ತುಳಸಿ ತುಳಸಿ ಎಂದು ಕೂಗಿದರೆ ಸಾಕು | ಇಲ್ಲದಿರೆ ಪುರಂದರವಿಠಲಯ್ಯ |
ಎಲ್ಲ ವಸ್ತುಗಳ ಈಡ್ಯಾಡುವ ||
श्री तुळसि इल्लदिरॆ, श्री कृष्ण तुळसि । तुळसिदळ इल्लदिरॆ, तुळसिकाष्ट । इल्लदिरॆ
तुळसि शुष्क , अदु हळेतादरॆ एनु । अवनीशगर्पिसबहुदु । इल्लदिरॆ,
चिगुगु तुळसि इल्लदिरॆ, मुगुळुतॆनॆ ।  इल्लदिरॆ बेरु, मण्णु । इल्लदिरॆ
तुळसि तुळसि ऎंदु कूगिदरॆ साकु । इल्लदिरॆ पुरंदरविठलय्य । ऎल्ल वस्तुगळ ईड्याडुव ||
shrI tuLasi illadire, shrI kRuShNa tuLasi | tuLasidaLa illadire, tuLasikaaShTa | illadire
tuLasi shuShka , adu haLEtaadare Enu | avanIshagarpisabahudu | illadire,
chigugu tuLasi illadire, muguLutene |  illadire bEru, maNNu | illadire
tuLasi tuLasi eMdu kUgidare saaku | illadire puraMdaraviThalayya |  ella vastugaLa IDyaaDuva
Pooja of Srihari without Tulasi is nishprayojaka
Stotra on Tulasi ::
ಪ್ರಸೀದ ತುಲಸೀದೇವೀ ಪ್ರಸೀದ ಹರಿವಲ್ಲಭೇ
ಕ್ಷೀರೋದಮಥನೋದ್ಭೋತೇ ತುಲಸೀತ್ವಾಂ ನಮಾಮ್ಯಹಂ |
ಯಾದೃಷ್ಠಾ ನಿಖಿಲಾಘಸಂಗಶಮನೀ ಸ್ಪ್ರುಷ್ಟ್ಪಾವಪುಪಾವನೀ
ರೋಗಾಣಾಮಭಿವಂದಿತಾ ನಿರಸನಿ ಸಿಕ್ತಾಂತಕತ್ರಾಸಿನಿ |
ಪ್ರತ್ಯಾಸತ್ತಿವಿಧಾಯಿನೀ ಭಗವತ: ಕೃಷ್ಣಸ್ಯ ಸಂರೋಪಿತಾ |
ನ್ಯಸ್ತಾ ತಚ್ಚರಣೇ ವಿಮುಕ್ತಿಫಲದಾ ತಸ್ಯೈ ತುಲಸ್ಯೈ ನಮ: |
प्रसीद तुलसीदेवी प्रसीद हरिवल्लभे
क्षीरोदमथनोद्भोते तुलसीत्वां नमाम्यहं ।
यादृष्ठा निखिलाघसंगशमनी स्प्रुष्ट्पावपुपावनी
रोगाणामभिवंदिता निरसनि सिक्तांतकत्रासिनि ।
प्रत्यासत्तिविधायिनी भगवत: कृष्णस्य संरोपिता ।
न्यस्ता तच्चरणे विमुक्तिफलदा तस्यै तुलस्यै नम: ।
prasīda tulasīdēvī prasīda harivallabhē
kṣīrōdamathanōdbhōtē tulasītvāṁ namāmyahaṁ |
yādr̥ṣṭhā nikhilāghasaṁgaśamanī spruṣṭpāvapupāvanī
rōgāṇāmabhivaṁditā nirasani siktāṁtakatrāsini |
pratyāsattividhāyinī bhagavata: kr̥ṣṇasya saṁrōpitā |
nyastā taccaraṇē vimuktiphaladā tasyai tulasyai nama: |
Who is Tulasi?  –   "ತುಳಸಿ" – Ocimum tenuiflorum
Tulasi is the avatara of Sri Mahalakshmi.   During Samudra Mathana, Srihari came in as Dhanvantry.  From this Vaidya Roopi Srihari – Dhanvantry,  who came holding Suvarna Kalasha comprising of Amrutha from the ocean.  At that time aanandashru (eye drops ಆನಂದಾಶ್ರು) came out of Sri Dhanvantri roopi paramathma and this drops turned out to be tulasi.     It was on Karthika Hunnime that the birth of Tulasi during the early morning  took place.  
As soon as she was born, Tulasi went to the mountainous region of Badarinatha to practice severe penance. Though many persons tried to dissuade her, no one was able to;  for she was determined to stay and pray in the forest till  Krishna appeared and agreed to become her husband.
Ceremonial marriage of Tulasi plant with Lord Vishnu is performed on this day.   It is customary to put Saligrama and Tulasi plant and getting marriage of them.
Vaishnavaites traditionally use japa malaas made from tulsi stems or roots.  Tulsi mani mala is referred to be auspicious for the wearer, and believed to put them under the protection of Srihari.   This japa maals is used to count ramanama smarana, krishna nama smarana, raghavendra nama smarana, narayana nama smarana, etc.
ತುಲಸಿ ನಮಸ್ಕಾರ – तुलसि नमस्कार –
ತುಲಸಿ ಶ್ರೀಸಖಿ ಶುಭೇ ಪಾಪಹಾರಿಣಿ ಪುಣ್ಯದೇ | 

ನಮಸ್ತೇ ನಾರದನುತೇ ನಾರಾಯಣ ಮನ:ಪ್ರಿಯೇ |
तुलसि श्रीसखि शुभे पापहारिणि पुण्यदे । नमस्ते नारदनुते नारायण मन:प्रिये ।
तुलसी मृत्तिकाधारण मंत्र – ತುಲಸೀ ಮೃತ್ತಿಕಾಧಾರಣ ಮಂತ್ರ –
ललाटे यस्य दृश्यते तुलसीमूलमृत्तिका ।   

यमस्तं नेक्षितुं शक्त: दूता भयंकरा: ।
ಲಲಾಟೇ ಯಸ್ಯ ದೃಶ್ಯತೇ ತುಲಸೀಮೂಲಮೃತ್ತಿಕಾ |
ಯಮಸ್ತಂ ನೇಕ್ಷಿತುಂ ಶಕ್ತ: ದೂತಾ ಭಯಂಕರಾ: |
ತುಲಸೀಮಾಲಾಧಾರಣ ಮಂತ್ರ – तुलसीमालाधारण मंत्र –
ತುಲಸೀಕಾಷ್ಟಸಂಭೂ:ತೇ ಮಾಲೇ ಕೃಷ್ಣಜನಪ್ರಿಯೇ |
ಬಿಭರ್ಮಿ ತ್ವಾಮಹಂ ಕಂಠೇ ಕುರು ಮಾಂ ಕೃಷ್ಣವಲ್ಲಭಂ |
तुलसीकाष्टसंभू:ते माले कृष्णजनप्रिये ।
बिभर्मि त्वामहं कंठे कुरु मां कृष्णवल्लभं ।
तुलसि अर्घ्यमंत्र: ತುಲಸಿ ಅರ್ಘ್ಯಮಂತ್ರ:
श्रिय: प्रिये श्रीयावासे नित्यं श्रीधरवल्लभे ।
भक्त्यादत्तं मयार्घ्यं हि तुलसि प्रतिगृह्यतां ।
ಶ್ರಿಯ: ಪ್ರಿಯೇ ಶ್ರೀಯಾವಾಸೇ ನಿತ್ಯಂ ಶ್ರೀಧರವಲ್ಲಭೇ |
ಭಕ್ತ್ಯಾದತ್ತಂ ಮಯಾರ್ಘ್ಯಂ ಹಿ ತುಲಸಿ ಪ್ರತಿಗೃಹ್ಯತಾಂ |
ತುಲಸ್ಯಾಹರಣ ಮಂತ್ರ  तुलस्याहरण मंत्र
ತುಲಸ್ಯಮೃತಜನ್ಮಾಸಿ ಸದಾ ತ್ವಂ ಕೇಶವಪ್ರಿಯೇ |
ಕೇಶವಾರ್ಥೇ ಚಿನೋಮಿ ತ್ವಾಂ ಕ್ಷಮಸ್ವ ಹರಿವಲ್ಲಭೇ |
तुलस्यमृतजन्मासि सदा त्वं केशवप्रिये ।
केशवार्थे चिनोमि त्वां क्षमस्व हरिवल्लभे ।

नवविध तुलसी पूजा ನವವಿಧ ತುಲಸೀ ಪೂಜಾ
दृष्ट्वा स्पृष्ट्वा स्मृत्वा ध्यात्वा नामत: स्तुता ।
रूपिता सेचिता नित्यं पूजिता तुलसी शुभा ।
ದೃಷ್ಟ್ವಾ ಸ್ಪೃಷ್ಟ್ವಾ ಸ್ಮೃತ್ವಾ ಧ್ಯಾತ್ವಾ ನಾಮತ: ಸ್ತುತಾ |
ರೂಪಿತಾ ಸೇಚಿತಾ ನಿತ್ಯಂ ಪೂಜಿತಾ ತುಲಸೀ ಶುಭಾ |

ತುಳಸಿಯ ಮಹಾಮಹಿಮೆ 
ಯಾ ದೃಷ್ಟಾ ನಿಖಿಲಾಘಸಂಘಶಮನೀ ಸ್ಪೃಷ್ಟ್ವಾ ವಪು: ಪಾವನೀ 
ರೋಗಾಣಾಂ ಅಭಿವಂದಿತಾ ನಿರಸನೀ ಸಿಕ್ತಾಂತಕತ್ರಾಸಿನೀ |
ಪ್ರತ್ಯಾಸತ್ತಿವಿಧಾಯಿನೀ ಭಗವತ: ಕೃಷ್ಣಸ್ಯ ಸಂರೋಪಿತಾ
ನ್ಯಸ್ತಾ ತಚ್ಚರಣೇ ವಿಮುಕ್ತಿಫಲದಾ ತಸ್ಯೈ ತುಲಸ್ಯೈ ನಮ: ||
ತುಳಸಿಗೆ ನಮಸ್ಕರಿಸಬೇಕು – ಆ ತುಳಸಿಯು ಏನೇನು ಮಾಡತಕ್ಕಂತವಳು ಎಂಬುದನ್ನು ಈ ಶ್ಲೋಕ ಹೇಳುತ್ತದೆ –  

ತನ್ನ ದರ್ಶನಮಾತ್ರದಿಂದ ಸಕಲಪಾಪಗಳ ಹಿಂಡನ್ನೇ ಪರಿಹರಿಸುತ್ತದೆ.  

ತನ್ನ ಸ್ಪರ್ಶನದಿಂದ ಇಡೀ ದೇಹವನ್ನೇ ಪಾವನಗೊಳಿಸುತ್ತದೆ

ವಂದನೆ ಮಾತ್ರದಿಂದ ಸಕಲರೋಗಗಳನ್ನೂ ಗುಣಪದಿಸುತ್ತದೆ

ಪ್ರೋಕ್ಷಣದಿಂದ ಯಮನ ಭಯವನ್ನು ಪರಿಹರಿಸುತ್ತದೆ

ಮನೆಯಲ್ಲಿ ಬೆಳೆಸುವುದರಿಂದ ಭಗವಂತನಾದ ಶ್ರೀ ಕೃಷ್ಣನಲ್ಲಿ ಭಕ್ತಿಯನ್ನು ಕರುಣಿಸುತ್ತದೆ

ತುಳಸಿಯನ್ನು ಪರಮಾತ್ಮನ ಪಾದಕಮಲದಲ್ಲಿ ಸಮರ್ಪಣದಿಂದ ಮುಕ್ತಿ ಫಲವನ್ನು ನೀಡುತ್ತದೆ
Sannidhana of different devataas in Tulasi – 
In Tulasi, there is sannidhana of various Tirthaas like Pushkara, Ganga, etc.   Brahma Rudra and Vishnu all do have their sannidhana,    There is Surya, All Grahaas, Vishve devate, Ashta vasu, Manus, Rushees, Vidyaadharaas, Gandharvaas, Siddaas, Kinnaraas, kimpurushaas, apsare, in each leaves.    Srihari leaves in the centre of Tulasi leaf, where as Brahma and Rudra leaves in the two corners of the tulasi leaf.    Similarly Mahalakshmi, Sarswathi, Gayatri, Shachi, etc. , Indra, Agni, Yama, Niruti, VaruNa, kubera, vaayu, etc.,
It is said that Hanumaan crossed the sea only after doing the vandana of Tulasi.    Nandeeshwara got the opportunity of worshipping Rudra only after did the pooja of Tulasi.   Padmapurana says that pooja without Tulasi is not pooja at all.  Snaana without Tulasi Mruttika is not snaana.,    Any daana given must be supported by Tulasi only.
Garuda Purana says even though Tulasi is dry, it can be used for pooja.
ತುಲಸೀಪ್ರದಕ್ಷಿಣೆ ಮಾಡುವಾಗ ಹೇಳಬೇಕಾದ ಮಂತ್ರ –
ತುಲಸೀಲಾನನಂ ಯತ್ರ ಯತ್ರ ಪದ್ಮವನಾನಿ ಚ |
ವಸಂತಿ ವೈಷ್ಣವಾ ಯತ್ರ ತತ್ರ ಸನ್ನಿಹಿತೋ ಹರಿ: |
ಪುಷ್ಕರಾದ್ಯಾನಿ ತೀರ್ಥಾನಿ ಗಂಗಾದ್ಯಾ: ಸರಿತಸ್ತಥಾ |
ವಾಸುದೇವಾದಯೋ ದೇವಾ ವಸಂತಿ ತುಲಸೀವನೇ |
ಪ್ರಸೀದ ತುಲಸೀದೇವಿ ಪ್ರಸೀದ ಹರಿವಲ್ಲಭೇ |
ಕ್ಷೀರೋದ ಮಥನೋದ್ಭೂತೇ ತುಲಸಿ ತ್ವಾಂ ನಮಾಮ್ಯಹಂ |
तुलसीलाननं यत्र यत्र पद्मवनानि च ।
वसंति वैष्णवा यत्र तत्र सन्निहितो हरि: । पुष्कराद्यानि तीर्थानि गंगाद्या: सरितस्तथा ।
वासुदेवादयो देवा वसंति तुलसीवने । प्रसीद तुलसीदेवि प्रसीद हरिवल्लभे ।
क्षीरोद मथनोद्भूते तुलसि त्वां नमाम्यहं ।
What is Uttana Dwadashi ?
In Chaturmasya Ashada Shukla Ekadashi Srihari pretends to go on sleeping and in Bhadrapa Shukla he will change the direction of his sleeping.  In Karteeka Shukla Dwadashi Srihari will get up, that day is called as Uttana Dwadashi.  On this Dwidalavratha and Chaturmasya Vrata samapthi must be done with the mantra :
Uthwana Dwadashi also signifies the beginning of Ksheera sagar mathan (churning of the milky Ocean).
Tulasi was born during Amruta Mathana.  She is mostly liked by Srihari.  We are plucking Tulasi for the pooja of Srihari.
ಇದಂ ವ್ರತಂ ಮಯಾದೇವ ಕೃತಂ ಪ್ರೀತ್ಯೈ ತವ ಪ್ರಭೋ |
ನ್ಯೂನಂ ಸಂಪೂರ್ಣತಾಂ ಯಾತು ತ್ವತ್ಪ್ರಸಾದಾತ್ ಜನಾರ್ಧನ||
इदं व्रतं मयादेव कृतं प्रीत्यै तव प्रभो ।
न्यूनं संपूर्णतां यातु त्वत्प्रसादात् जनार्धन॥
This dwadashi is also called as Prabhodini Dwadashi. – a day said to be the waking in of Srihari and the samapthi of Chaturmaasya also.

Prohibited days for plucking Tulasi –
ಸಂಕ್ರಾಂತೌ ಪಕ್ಷಯೋರಂತೇ ದ್ವಾದಶ್ಯಾಂ ನಿಶಿ ಸಂಧ್ಯಯೋ : |
ತುಲಸೀಂ ಯೇ ವಿಚಿಂನ್ವಂತಿ ವಿಚಿನ್ವಂತಿ ಹರೇ: ಶಿರ: ||
How to pluck the Tulasi leaves –
a. Bath should be taken,
b. Achamana to be done,
c. Water to be poured at the roots of Tulasi.
d. Then Prarthana to be done to Tulasi

e. Tulasi after plucking to be kept in a vessel
f.  Tulasi should not be washed. But Flowers must be washed
Importance of Tulasi as per various puranas  
As per Shiva purana on Dwadashi, sankramana period, both eclipses, Sundays, Fridays – Tulasi should not be gathered from the trees. Tulasi should not be plucked from the tree by wearing cloth on the head, or with chappals on the feet, or with unclean body stage.
As per Lingapurana, Puja should not be done without Tulasi.
As per Garuda Purana, Tulasi is the supreme amongst all the flowers.  Tulasi is mandatory.    Tulasi to be brought by self preferably.  However, if brought by others, only fifty percent phala is obtained.
As per Brahma Purana, there is none equal to Tulasi.  Puja performed to Srihari without Tulasi has no use at all.  Even when Tulasi is unavailable, atleast dry sticks of Tulasi should be offered after nirmalya visarjana.    If even the Tulasi stick is also unavailable, then atleast the name "Tulasi" should be pronounced.
Vishnu Purana states that the darshan of Tulasi will bring and would give all phalas equivalent to taking bath in all sacred and holy thirthas.  When the japa is made of the mantras relating to Srihari with Tulasi Kashta Japamala, then the phala would be ten times more than the usual phala.
Naradeeya Purana states that one who collects and does puja to Srihari reciting Vishnu Sahasra Nama would get the kingdom itself.  The number of Tulasi leaves that are submitted on the shira (head) of Srihari during puja, the devotee would live so much thousand of years.
Agneya Purana states that one who does smarana of Tulasi, Vishnu and Ganga and do the puja, would definitely reach Vaikunta.
Skanda Purana states that one who remembers Tulasi and does the puja would attain "Saarupya Moksha"  and would not be born again.
Bhavishyat Purana states that the recital of the names Srihari, Tulasi would provide jnanam and bhakthi.  All our sins would be destgroyes.

Brahma Vaivarta purana states that one who tender Tulasi to Sri Krishna paramathma would be granted Saayujya Moksha.
Markandeya Purana states that the person who has Tulasimala in his neck and who chants Srihari nama with his tongue – would never be in trouble from Kali.   and he will never be disturbed by the servants of Yamadharma.
Vamana Purana states that in the roots of Tulasi all the sacred Tirthas reside.  In the middle, all devatas reside.  At the tip of the Tulasi, all the vedas are there and for such Tulasi namaskaras are to be submitted.
Varaha Purana states that Varaha devaru to worshipped with devotion by Tulasi leaves.  There is no birth for a devotee who does dhyana of Sri Varaha and Tulasi.  Whoever does Puja without Tulasi being used in the puja, has to live in the hells for one manvantara.
Brahmanda Purana states that whoever does puja to Srihari with one hundred Tulasi leaves, his punya is undescribable.    He would be clearing off crores of sins like Brahmahatya and other henious crimes.
Vishnu Rahasya states Bath to be taken early in the morning before sunrise and Gayathri Japa to be done.  Then Srihari to be worshipped by pooja with Tulasi leaves.  Such devotee would reach Saayujya roopa moksha.
Paramathma is residing in 5317 roopas in Tulasi as per Harikathamruthasara vibhuti sandhi shloka 8
ಮೂರೆರಡು ಸಾವಿರದ ಮೇಲ ಮುನ್ನೂರು ಹದಿನೇಳು ಎನಿಪ ಶ್ರೀತುಳಸೀದಳದಿ |
Tulasi & Sri Surendra Tirtharu –
Once Sri Vyuasarajaru was performing pooja and he took the golden vessel in which Tulasi leaves were there.  He took Tulasi leaves in his hand for archana but did not submit to the Srihari saying that they are nirmalya.  The Shishya who had brought the leaves fresh from the tulasi plant was surprised and shocked to hear this.  After the pooja, Vyasarajaru asked that shishya as to tell from which place he had brought.  Then Vyasarajaru went to the Tulasi vana where the Tulasi leaves were plucked.  There he saw Sri Surendra Tirtharu, the guru of Sri Vijayeendra Tirtharu doing paatha – pravachana.  He realised that the entire Tulasi leaves were offered by Surendra Tirtharu already.  As such, it had become nirmalya.
Tulasi & Sri Satyavara Tirtharu –
Sri Satyavara Tirtharu had offered one crore Tulasi leaves to Mula Ramachandradevaru in the presence of Sri Satyabodha Tirtharu.
(Source  :
Mahimas of Vanabhojana by Sri T S Raghavendran
pavitra Tulasi by Sri Vyasanakere Prabhanjanacharya)