ಶ್ರೀ ಸಂಕರ್ಷಣ ಒಡೆಯರ್
ಸಂಕರ್ಷಣ ಯತೀಂದ್ರಾಯ
ಶಾಂತಾಯ ಅಮಲ ಚೇತಸೇ !
ಧಾಂತಾಯ ಭಜತಾಂ
ಕಲ್ಪತರುವೇ ಗುರುವೇ ನಮಃ:|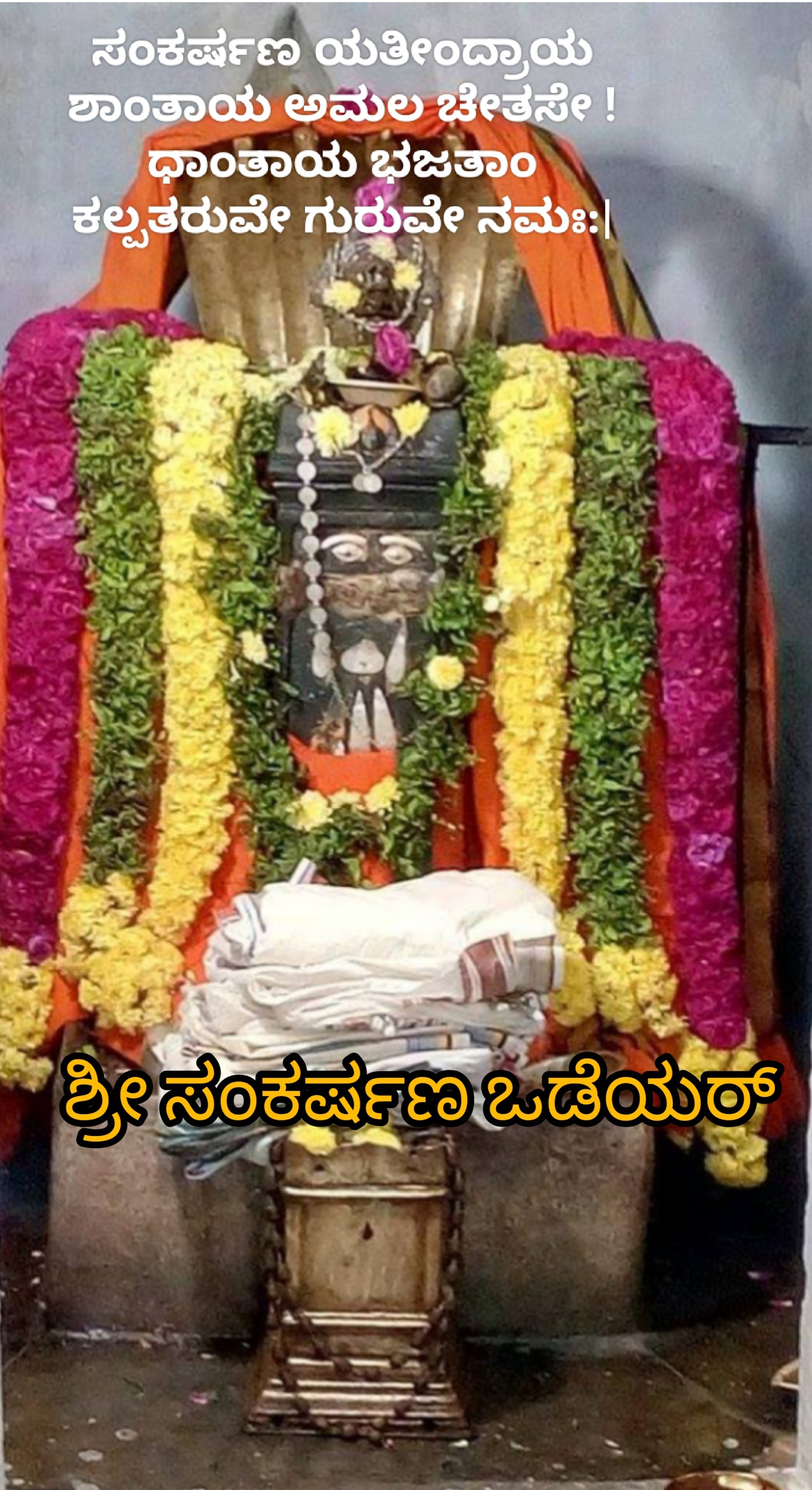 Born in 1810 AD with the blessings of Sri Satyadharma Tirtharu

Birth Place – Kurlahosur, Belgaum District

Poorvashrama Name – TamaNNa Naik

Father – Dhumappa Naik

Ankita – sankarshaNa Vittala

Vidya Guru – Sri Vishwapriya Tirtharu of Sri Sode Mutt, and Sri Bheemavarahachar

Ashrama Sweekara – swayam sanyasa @ Kaasi

Period –   1810-1862
Ashrama Gurugalu – Sri Satya Parayana Tirtharu

Vrundavana – Karampoondi village )(Tiruvannamalai district, TN)
Vrundavana – 1862AD – Margashira Shudda Panchami
Pooja idol – Silver Venugopala Krishna idol gifted by Satyaparayana Tirtharu

Grantha – Vyakyana for Harikathamruthasara
A noteworthy feature of this Brindavana is that the shadow of the tip of the Sampatgiri Narasimha falls on the spot of the holy shrine.
Some of the songs of the great saint are as under:
kolala ooodutha baaro kamsamardana baaro…..(kalyani raagaa)
shruti,smiriti galinda stutisallaareno……(bandu varaali)
Family Background –
Naik family was engaged in the trade of silver, gold, diamond and pearl and shifted to Dharwar to pursue their business. His father's name was Dhumappa Nayak who had two wives.
Thammanna was keenly observing panchebeda gnana, taratamya and also observing without fail ekadashi and harivasara. Observing Thammanna's disciplined life in that young age, Sri Beemavarahachar used to call him as 'Rishi'. Thammanna got married at the right age and had two children. His wife died when he was twenty two years old and he was not interested in marrying for the second time.
Karampondi –
In Karampoondi we can also see Anjaneya Temple near Swamiji Brindhavan where we can see all the three forms Hanuma, Bheema and Madhwa in a single idol.
In Polur Lord Narashima swamy temple is situated in a hill. The Uthsava muthri's face is the face of Lord Narashima, you cannot find such a murthi any where. Sankarshana Odeyaru had his brindhavana in Karampoondi where the shadow of the hill falls. The lord Narashima has various mahimas in which I experienced in my life.
Thammanna reached Udupi and mastered the 37 Sarvamoola under the guidance of Sri Vishwapriya Theertharu of Sodhe Matha.
Thammanna Nayak meets Satya Parayana Tirtharu –
Meanwhile,  Sri Satya Santhushta Tirtharu and Sri Satya Sankalpa Tirtharu were doing Sri Rama Vedavyasa puje at the same place for years.   The Uttaradimutt had pledged its Navarathna Mantapa and the golden gangala with Ramanna,  the brother of Thammanna, when it had landed in dues as the Mutt could not meet the expenditure out of the reserve funds.

After some years, Sri Satya Parayana Thirtharu took over the reins of the matha after Sri Satya Santhusta Thirtharu. Srigalu during his sanchara camped at Ramanna Nayak's house and performed Sri Rama Vedavyasara puje for two months. One day, he spoke to Ramanna and said, 'Ramanna, my puje seems to be incomplete, my mind wanders away in seeing Rama without the rathna mantapa. I will do sanchara and will repay from the contributions I receive thus towards the pledged items. You may send your representative along with me to whom the money will be deposited. Ramanna agreed to this and Thammanna joined the entourage of Srigalu with the main intention of doing teertha yatra and also to collect the dues.  Thus Thammanna Nayak joined the seer with the intention of collecting dues for his cousin.

But, during the sanchara, Thammanna not willing to waste the time in just collecting the money for his cousin, also started studying under Sri Satya Parayana Thirtharu the Sarvamoola shastras once again.  After mastering the shastras and granthas, Thammanna did 'mangala' .  Thammanna asked Satyaparayana Tirtharu as to what Guru DakshiNe, he has to give.  Srigalu asked Thammanna to consider the navrathna mantapa and gangala pledged with his brother as guru dakshina.  Thammanna without hesitation and with detached mind gave up the items as guru dakshina to Rama Vedavyasaru. Srigalu told Thammanna to send message to his brother clearing his dues.  As per his guidance, Thammanna drafted two letters to his brother Ramanna, one letter certifying that all dues have been received from the matha and the second one requesting that the navarathna mantapa and the golden gangala be delivered to the matha's messenger.
Thammanna's vairagya –

Ramanna who received the letters, delivered the pledged items of the matha through the messenger. The matha's debt was cleared and the pledged items were restored, seeing the idol of Rama in his gloriest past and having found a great shishya in Thammanna, Sri Satyaparayana Thirtharu was very happy and continued his sanchara to propagate madhwa philosophy.
Ramannna spent good time in waiting for the money collected from the matha which was not forthcoming. There was no response for his letter from Thammanna. So Ramanna went in search of Thammanna and learnt that the amount was not recovered from the Mutt and Thammanna had given the receipt to Mutt, without recovering any dues.
Thammanna told his brother to take his share of property and relieve him from dues, which Ramanna agreed and kept the remaining property with himself, after adjusting the dues of Mutt. Thus Thammanna showed his vairagya for the share of property  and sacrificed for the Mutt.

Thammanna becomes Sankarshana Odeyaru :
Thammanna at the age of 32 years left for Udupi to get guru upadesha and sanyasa ashrama from Sri Satya Parayana Theertharu. Srigalu tried to convince him that he should remain a grahastha. Ramanna also pleaded with his brother to reconsider his decision – all efforts failed and Thammanna was determined to have sanyasa ashrama. Finally, Srigalu gave him sanyasa ashrama and named him as Sri Sankarshana Wodeyaru and gave him a silver Sri Venugopala Vigraha for his daily puje. Sri Sankarshanaru stayed in his house for some time and shifted to Sri Vittala Swamy temple in the agrahara and lived on bikshe offered to him.  He went on yatre to Tirupati and the Sri Venkatesha appeared in his swapna and directed him to go to Sholingur (Gatikachalam) for the darshan of Sri Yoga Narasimha and Sri Yoga Anjaneya. After his Sholingur yatre, Sri Sankarshanaru proceeded to Vellore and stayed there for nine years – he re-organised the matha activities.
Vrundavana Pravesha :
In 1862, Margasirsha maasa, suddha panchami, dundhubi samvatsara, Sri Sankarshana Wodeyar entered Vrundavana at Karampoondi. Since then regular puje and aradhana continues without fail. An eyewitness account of the vrundavana pravesha of Sri Wodeyaru gives us a clear picture of the event. Sri Sankarshanaru instructed his disciple Sanjeevi Rao to make necessary arrangements for the brundavana pravesha suitable for a yathi. Sanjeevi Rao along with others prepared the place, cleaned and made all arrangements. After some months Sri Sankarshanaru appeared in the swapna of Sanjeevi Rao and said that his instructions have not been carried out properly. While examining the site the next day, Sanjeevi Rao and other devotees were surprised to see that Sri Wodeyaru as 'jadadhari' and all the gopichandana mudras were as fresh as on the day of vrundavana. Eight months after this incident, a brundavana was raised at the site.
Granthas/shlokas on Sankarshana Wodeyar –
Venkataramana achar, who was blessed by Sri Sankarshanaru had composed Sri Sankarshana Kavacham, Kalpadharu Stotra, Mangalashtakam and Navarathna Malika.
(Source –  "Sri SankarshaNa Vijayam" by Late Sri N  S LakshmaNa Rao, Arani And Parimala Magazine)