Sriranga Prakara pradakshiNa vidhi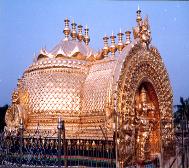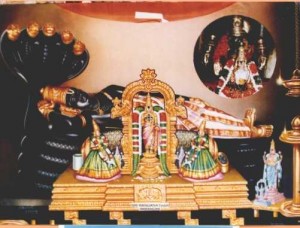 CLICK FOR SRIRANGA PRAKARA PRADAKSHINA VIDHI IN KANNADA/DEVANAGIRI

This is found in Garuda Purana, one of the Satvika purana by Sri Vedavyasa devaru.  We do Prakara Pradakshina to attain Moksha and have the darshana of Vaikunta with seven prakaraas.  The temple at Sriranga is based and built on the description of Vaikunta.  It contains 37 shlokas for the benefit of devotees.  Even if one is unable to do the prakara pradakshina, by the parayana of the shloka also, he would get the same punya by chanting the verses.
Srirangam is situated in the midst of Kaveri river and on the banks of the Chandrapushkarini River.  This is a discussion between Chaturmukha and Garuda.
Srirangam is one of the eight swayam vyakta kshetras – others being Srimushnam in TN (Varaha Devaru), Venkatadri in Andra,  Saaligramamam now in Nepal,  Naimishaaranya in UP, Totadri (Narasimha) in Guntur Dist of Andra,  Pushkara near Ajmer and Badari Narayanashrama
ಶ್ರೀರಂಗಂ ವೇಂಕಟಾದ್ರಿಶ್ಚ ಶ್ರೀಮುಷ್ಣಮ್ ತೋತಪರ್ವತಂ ಸಾಲಗ್ರಾಮಂ ಪುಷ್ಕರಂಚ ನರನಾರಯಣಾಶ್ರಮಂ
ನೈಮಿಶಮ್ ಚೇತಿ ಮೇ ಸ್ಥನನ್ಯಸೌ ಮುಕ್ತಿ ಪ್ರಧಾನಿವೈ ಯೇತುಸ್ವಷ್ಟಾಕ್ಷರೈಕಾಕ: ವರ್ಣಮೂರ್ಥಿರ್ ವಸಾಮ್ಯಹಂ
ತಿಷ್ತಾಮಿ ಕ್ರಿಶ್ಣ ಕ್ಷೇತ್ರೇ ಪುಣ್ಯ ಸಪ್ಥಕೋಗಥ: ಆಷ್ಟಾಕ್ಷರಸ್ಯ ಮಂತ್ರಸ್ಯ ಸರ್ವಾಕ್ಷರ ಮಯ ಸದಾ |
श्रीरंगं वेंकटाद्रिश्च श्रीमुष्णम् तोतपर्वतं सालग्रामं पुष्करंच नरनारयणाश्रमं
नैमिशम् चेति मे स्थनन्यसौ मुक्ति प्रधानिवै येतुस्वष्टाक्षरैकाक: वर्णमूर्थिर् वसाम्यहं
तिष्तामि क्रिश्ण क्षेत्रे पुण्य सप्थकोगथ: आष्टाक्षरस्य मंत्रस्य सर्वाक्षर मय सदा |
When Garuda asks the Mahimas of Prakara pradakshina vidhi, Brahma tells :
The temple has 14 entrances in all the directions.  There is one important entrance called Rangadhamna.

The pradakshina is done to attain Moksha as well as to remove the sins committed.    From all the directions, Sriranganatha should be prostrated.

Initially before stating for pradakshina, one has to get permission from Vishvaksena.  (According to Vaikhanasagama, Viswaksena has a prominent place and he is the Chief of the army of Srihari)

Then we have to seek permission from Garuda (paksheendra), similarly dikpalakaas and Jaya – Vijaya, the gate keepers of Vaikunta.

Then namaskaras to be done to Vasudeva, Sree, Bhoo, Shaangapaani, then Yama, the dakshina dikpalaka.

Then namaskaras to be offered to Rangesha in Prateechi dik, then namaskaras to be done to Indra, Pushkara,  then in Vayuvya dik, namaskaras to be given to Vayudeva, the dikpalaka, Garuda, Durga and Saraswathi.   Then in North direction do namaskara to Rangesha again.

Namaskaras to be done to Dhanadhipati Kubera, Ganadhipathi Ganapathi.

In Eashanya direction do namaskaras to Isha, Indra, Chandra, next in East direction.  In Agneya direction do namaskara to Agneya and Budha.

While submitting the pradakshina one should be silent and should remember Rangaprabhu – Rangesha always in his mind.
It should be performed early in the morning, after taking bath at Kaveri.
RANGAVIMANA (RANGADHAMA) OR SRIRANGA –
Ranga Vimana is the first and the earliest of all these Swayam Vyakta kshetras.  The Paramathma pleased with the penance of Chaturmukha directed him to worship strictly according to the procedure for worship laid down in the Agamas and lay down in his characteristic posture, in Yoganidra.
Initially, Brahma was worshipping in his Satyaloka for a long long time and installed it on the banks of the river Viraja.
Initially, Brahma carried it to Satyaloka and installed it on the banks of the river, Viraja.  He gave Pancharatragama upadesha to Vivaswan, the Surya and ordered him to do the daily pooja.  After him Vaivaswata Manu did the pooja to Ranganatha regularly.    After him,  his son Ikshvaku, became the King of Ayodhya, he  wanted to have it installed at Ayodhya.
Sriranga Vimana came to bhooloka – Ikshvaaku did severe penance  for hundreds of years for getting the Sriranga Vimana to Bhooloka and wanted to have it installed at Ayodya.    Indra got anger at the penance of Ikshvaaku and applied his Vajrayudha on him.  Ikshvaaku who was deeply involved in penance prayed Chakrayudha of Srihari.  Immediately the Vajrayudha which had come there became sober and pacified and was regarded as waste in front of the penance of Ikshvaaku.  Indra went to Brahma and informed what had happened to his Vajrayudha.    Brahma went to Sriranganatha who was sleeping in Milky ocean.  Srihari told that his Vimana to be worshipped at Ayodhya City.  Brahma agreed and sent the vimana on the back of Garuda and thus it reached Ayodhya.  Ikshvaaku installed Sriranga Vimana between Sarayu and Tamasa Rivers.
Sriranga Vimana moved from Ayodhya to Chandrapushkarini –
Sriramachandra, the incarnation of Srihari, the vamshasta of Ikshvaaku, also did the pooja (loka reethya) of the Sriranga Vimana.    The entire Surya vamsha kings upto Ramachandra devaru, followed the pooja of Sriranga Vimana under the guidance of sage Vasista.  Ramachandra  gave it to Vibheeshana, pleased with him after being worshipped by him.
It will be there till Brahma's dina kalpa and in the end, it will move back to Satyaloka.  Vibheeshana carried the Rangavimana to Lanka.  On his way, he got down near Chandrapushkarini for his Ahnika and had placed the Vimana.  After his ahnika, when he tried to lift the vimana, it didn't move.    Vibheeshana tried his best to lift, but failed and then prayed Srihari, who appeared and consoled him.
King Dharmnavarma, the Chola King wanted the vimana to be installed near Chandrapushkarini.  He did severe penance on the banks of the Chandra Pushkarini River and went to Ayodhya when Sri Ramachandra was doing Ashwamedha Yaaga and asked Ramachandra to give Ranga Vimana.   Ramachandra had agreed that he would see that the vimana would come to his place.
On his way at Anantha Pitha, the Sriranga Vimana was installed by Vibhishana.  King Dharmavarma also arrived there alongwith his subjects.  Both Vibhishana and Dharmavarma did special pooja to Rangadhama.  Vibhishana intended to have a great utsava for Rangadhama and that he had to leave for Lanka.  Dharmavarma Raja also requested to have utsave here near Chandrapushkarini.  Both agreed and arranged for the utsava in a grand manner.   Dharmavarma Raja spent huge wealth for the utsava and celebrated the utsava in a grand manner.    Vibhishana who was well attended to by the King Dharmavarma, spent 15 days near Chandrapushkarini itself.
Then Vibhishana wanted to move to Lanka and so he tried to lift the Ranga Vimana but unable to remove from the earth.    Vibhishana had falled at the paadas with full of tears in his eyes and at that time came Sri Mahavishnu and said his desire for staying there itself and asked Vibhishana to move to Lanka.
Kaveri – The holy bath taken in Kaveri will purify all trhe sins.  Chaturmukha Brahma told that this place is very sacred and that Kaveri is equal to Ganga.    Kaveri tried to become superior to Ganga and did severe penance, but later Vishnu said that Kaveri does have the saannidhya of Sriranganatha, and is superior to Ganga at Srirangam.
Chandra Pushkarini – Chandra had lost all his splendour due to the curse of Kashyapa earlier.  Then Chandra took bath at the pushkarini and regained greater tejas and splendour in him and as such, it is called as Chandra Pushkarini.  It is surrounded by eight Tirthas, eight trees and has the presence of sannidhana of Vishnu.   A person who surrounds all the eight Tirthas on a single day, and then takes holy bath, in all of them and then has the darshana of Rangesha would be saving atleast 10 ancestors from all sins.    If one does fasting on Ekadashi, and takes holy bath at Chandra Pushkarini, he would be saving 21 of his ancestors.    The Pindas offered in these tirthas are superior to that of Gayashradda.   The Godaana (daana of Cow) done here will make the pitru devates happy in the heaven.
Bilva Tirtha –  This Tirtha is opposite to Chandra Pushkarini Tirtha.  Sukracharya had done tapas under the tree for getting rid of the sin committed by him in supporting the daithyaas.  Bilva Tree was installed by Sukrcharya there.
Jambu Tirtha – Towards the agneya direction, there is Jambu Tirtha.  Shiva is staying there to wash off his sins due to the act of writing Shaivagama.
Ashwatha tree –  This tree lies to the southern direction, where Indra did tapas here, in order to clear off the sins committed by him to Ahalya.
Punnaga Vruksha – Towards the west of Chandra Pushkarini, there is one supreme tree called Punnaga Tree.  Agnideva had reached Kruttika devataas.  Due to that Agni had defects.  In order to bring down and getting rid off, those doshas, agni devata did severe penance at this  place.
Kadamba Tree – Towards north, there is Kadamba Tree, where once Janaka Maharaja had did yaaga.
Srirangam Ranganadhar temple has seven prakaram relating to saptha lokas.
1) Bhoolokam
2) Bhuvarlokam
3) Suvarlokam
4) Maharlokam
5) Janolokam
6) Thapolokam .
7) Sathyalokam (Garbha graham)