| | |
| --- | --- |
| Aradhana Day | Karthika Bahula Chaturdashi |
| Peethadhipathwa Period | 1317-1324AD |
| Vrundavana | Anegondi (later Navavrundavana) |
| Mruttika Vrundavana | Mulabagilu |
| Ashrama Gurugalu | Acharya Madhwa |
| Birth Name | Shobana Bhatta |
| Original Place | Banks of Godavari river |
| Astana Vidwan, Raaja Guru | Raja Mahendri near Godavari River |
| Vrundavana Pravesha | 16.11.1324AD |
| River | Tungabadra |
Padmanabha Tirtharu – English PDF – Click

Anegondi – Moola Vrundavana)

(Mulbagilu)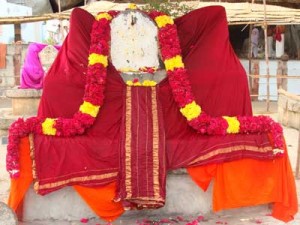 (Moola Vrundavana @ Anegondi)
ಪೂರ್ಣಪ್ರಜ್ಞಕೃತಮ್ ಭಾಷ್ಯಮ್ ಆದೌ ತದ್ಭಾವ ಪೂರ್ವಕಮ್
|
ಯೋವ್ಯಾಕರೋನ್ನಮಸ್ತಸ್ಮೈ ಪದ್ಮನಾಭಾಖ್ಯ ಯೋಗಿನೇ |
ಶ್ರೀ ಮಧ್ವಸಂಸೇವನ ಲಬ್ಧ ಗೋಪಾಕೃತೀರ್ಭಕ್ತಿ ನಿಷೇವಣೇನ |
ಲೋಕೇಷು ವಿಖ್ಯಾತ ಸುಕೀರ್ತಿಮಂತಮ್ ಶ್ರೀಪದ್ಮನಾಭಾರ್ಯ ಮುನಿಂ ಪ್ರನೌಮಿ |
poorNapraj~jakRutam BaaShyam Adou tadbhaava pUrvakam |
yOvyaakarOnnamastasmai padmanaabhaaKya yOginE |
shrI madhvasamsEvana labdha gOpaakRutIrbhakti niShEvaNEna |
lOkEShu viKyaata sukIrtimantam shrIpadmanaabhaarya munim pranoumi |
पूर्णप्रज्ञकृतम् भाष्यम् आदौ तद्भाव पूर्वकम् ।
योव्याकरोन्नमस्तस्मै पद्मनाभाख्य योगिने ।
श्री मध्वसंसेवन लब्ध गोपाकृतीर्भक्ति निषेवणेन ।
लोकेषु विख्यात सुकीर्तिमंतम् श्रीपद्मनाभार्य मुनिं प्रनौमि ।
Padmanabha Tirtharu the FIRST–
1. He is the First Ashrama Shishya of Acharya Madhwa
2. He is the First Advaitee Shishya converted by Acharya Madhwa.
3. He is the First Teekakara of Acharya Madhwa's Granthaas
4. He is the First prasaraka of Acharya Madhwa Shastra
5. He is the First to have Vrundavana built
Sri Jayatirtha's quotes on Sri Padmanabha Tirtharu in his Tatvaprakashika –
ಶ್ರೀಮಧ್ವಸಂಸೇವನ ಲಬ್ದಶುದ್ಧವಿದ್ಯಾಸುಧಾಂಭೋ ನಿಧಯೋsಮಲಾ ಯೇ |
ಕೃಪಾಲವ: ಪಂಕಜನಾಭತೀರ್ಥಾ: ಕೃಪಾಲವ: ಸ್ಯಾನ್ಮಯಿ ನಿತ್ಯಮೇಷಾಂ |
श्रीमध्वसंसेवन लब्दशुद्धविद्यासुधांभो निधयोsमला ये ।
कृपालव: पंकजनाभतीर्था: कृपालव: स्यान्मयि नित्यमेषां ।
Here Jayatirtharu compares Padmanabha Tirtharu to the milky ocean (ksheera samudra).   Padmanabha Tirtharu earned the pure vidya through his seva of Acharya Madhwa.  His heart is very much pure, and pray him to offer some kaarunya on us also.

Route for Navavrundavana –  Navabrindavana is small island situated nearby Anegundi of Koppal District.   Anegundi is 20 Kms away from Gangavathi.  From Anegundi one has to cross River Tungabhadra by boat to reach Navabrindavana. Another way to approach Navabrindavana is via Hampi. Hampi is 12 kms way from Hospet of Bellary District.  In Hampi, again we have to cross River Tungabhadra to reach Navabrindavana.
Gopinatha devaru – Sri madhwacharyaru was doing the pooja of Gopinatha Devaru.  After giving ashrama to Shobana Bhattaru and renaming him as Padmanabha Tirtharu or Pankajanabha Tirtharu or Kamalanabha Tirtharu, Srimadacharyaru gave him Gopinatha idol which is being worshipped even today in Sripadaraja Mutt parampare.
He is the moola purusharu for Sripadaraja Mutt
Sripadaraja Mutt parampare reads as follows :-
Hamsanamaka paramathma – Chaturmukha Brahmadevaru – Sanaka Tirtharu – Sri sanandana Tirtharu – Sri Sanatkumara Tirtharu – Sri sanatana Tirtharu – Sri Doorvasa Tirtharu – Sri Jnaananidhi Tirtharu – Sri Garudavahana Tirtharu – Sri Kaivalya Tirtharu – Sri Jnaanesha Tritharu – Sri Paratirtharu – Sri Satyaprajna Tirtharu – Sri Prajna Tirtharu – Sri Achyutapreksha Tirtharu – Srimadhwacharyaru – Sri Padmanabha Tirtharu – Sri Lakshmidhara Tirtharu-Sri Sankarshana Tirtharu – Sri Parashurama Tirtharu – Sri Adiraja Tirtharu – Sri Satyavrata Tirtharu – Sri Svarnavarna Tirtharu – Sri Sripadarajaru, – Sri Hayagreeva Tirtharu…….

Since Sripadarajaru took over the Mutt adhikara, it is being called as "Sripadaraja Mutt"
Granthas by Sri Padmanabha Tirtharu:

Mayavada KhanDana Teeka

Upadhi KhanDana Teeka (Nyaayavali)

Prapanchamityaatvaanumaana KhanDana Teeka

Katha LakshaNa Teeka

Geetha Bhashya Teeka (Bhaavapradeepika)

Geetha Taatparya NirNaya Teeka (Prakashika)

Sattarka Deepavali (Sri Brahmasootrabhaashya Teeka)

Sannyaaya RatnavaLi (anuvyaaKyaana Teeka)

TatvOdyOta Teeka

PramaNalakShaNa Teeka

VishNutatva niRNaya Teeka

Vayuleela vistaraNa

TatvavivEka Teeka

KarmanirNaya Teeka

Tatvasankyaana Teeka
Padmanabha Tirtharu as per Sumadhwa Vijaya –
He was a staunch Advaitee Vidwan. Once he saw Acharya Madhwa's Granthaas during Acharya's visit to Godavari river basin. He gone through the entire granthaas. Shobhana Bhattaru examined Acharya Madhwa in various styles. He  had argued with Acharya Madhwa and was defeated and accepted his defeat. He  heard the Brahmasootra bhashya from Acharya Madhwa. He had seen Acharya Madhwa defeating all the 21 kubhashyaas, and found that Madhwa Shastra does not had any dosha. After seeing the Madhwa Bhashya, Shobhana Bhattaru felt very happy and discarded all the other Mathaas. He asked Acharya Madhwa to give him sanyaasa. He started the prachara of Acharya Madhwa's shastra with gurvanugraha.
Sri Padmanabha Tirtha got the Acharya Madhwa's shastgra with shravana, manana, bhakti, virakti and with nitya sevane of Acharya.
shrutvaa matyaa sadaa bhaktyaa viraktyaa nityasEvayaa | tasmai: prasanna: prajEkShya: sadyO vidyaaM dadou shubhaaM|
Padmanabha Tirtharu was like a timingila (Whale) for the other darshanikas, as  he was condemning all other darshanikaas based on Madhwa Shastra. He was>condemning the other darshanikaas with Vyaakyana dwani, which was just like roaring of a lion. He was a durvaadigajakesari.
Madhwa Shastra Prachara by Sri Padmanabhatirtharu–
He was giving the example of Madhwa Shastra with Balamuri shankha. Acharya Padmanabha Tirtha was referring Balamuri Shankha with Acharya Madhwa's Shastra. If Balamuri ShanKha is found by a Churnaka, who deals in making of chunam (suNNa), as he does not know the value of Balamuri ShanKha, he tries to cut the ShanKha to get pieces, and failing to get cut into pieces, he will throw the same. Here Balamuri Shankha (Madhwa Shastra) seen by the Churnaka first and he thought it is not of any use for him, as he does not know the importance of  it. It means that Madhwa Shastra must not be studied with the intention of our jeevana nirvahaNe i.e., for our life maintenance. In EDamuri shanka there is saannidhya of Lakshmi, Balamuri ShanKha is the prateeka of Srihari and we must do the pooja of Balamuri Shankha like Saligrama/Sudarshana.
The same Balamuri ShanKha is got by a another person, who knows the value of this ShanKha, he sells it to get huge value. Here the person who got theShankha, could not get the full advantage of Balamuri Shankha (Madhwa Shastra), as he tried to get maximum property and was chasing only the loukika dhana.
Acharya's shastra must be studied and studied further to get more jnaana.The said Balamuri ShanKha was purchased by a king, who kept the same in the pooja room,did the pooja daily of the ShankHa, with true devotion and he got huge aishwarya, and was getting daily. Acharya Madhwa's Shastra is likekalpavruksha, which with the shravaNa – manana gets more value, and the value keeps on coming.
This was the style of pravachana by Sri Padmanabha Tirtharu