Sri Jayatirtha's mruttika vrundavanaas : –
1. Hospet – Uttaradimutt
2. Bangalore – Uttaradimutt
3. Darapuram (TN) – At kadu Hanumantharaya temple- Darapuram ( Erode Dist)
4. Agraharam (Tirupur District, TN) At Palladam Anjaneya temple, Agraharam ( behind the Bus stand ) Looked after by sri Nagaraja Rao Dist Education officer ( Retd)
5. Coimbatore – Uttaradimutt – At Telugu Brahmin St, Coimbatore, Cauveri Mantapam Contact- Sri T.S.Raghavendran- advocate.
6. KUSHTAGI in Koppal District (Karnataka) . it is Taluk Headquater
7. Bangalore – Sri Sripadraj mutt in Bangalore Chamrajpet it is below Vyasaraj Stapita hanuman (Jalakamgiri).
8. Dharwad – Karnataka Univercity Railway gate there is Rayaru, Vadiraj, Jayatheertha Brindavan are there in Dharwad
9. Harihar – Jayatirtharu, Rayaru & Satyapramodaru.
10. Triplicane TN – Uttaradimutt
11. Tirunelveli – Perhaps the oldest mrittika Brindavan of Teekarayaru is the one consecrated by Sri Sathyapriyaru at UM, Car Street Tirunelveli in 1740s.
12. Chennai – Dr Rangachari road in Panduranga Mandir in the Brindavan (spiritual) complex a mrittika brindavan of Teekarayaru is available for worship since 1-5-1940
13. Srirangam, Trichy (TN) – There is one Mrithika brindavana in Srirangam,Trichy in TN. Incidentally this is also a Yathi Thraya sannidhana as this place also has the Mrithika Brindavana of Sri Ragothama Theertharu and Sri Raghavendraru.
14. Hyderabad – Mruttikas of Sri Jayateertharu, Sri Raghoothamaru, Sri Rayaru & Sri Satyapramodaru in Jeelalguda near Hyderabad…
15. 
Chennai
– Navavrundavana Complex 16. 
Kudli
– Sri Akshobhya Tirtharu, Jayatirtharu, Raghuttamaru @ Kudli, Near Holehonnur 17. 
Bellary
– Sri Jayatirtharu, Sripadarajaru, Vyasarajaru, Vadirajaru, Rayaru @ Vyasaraja Mutt, Radio Park , Bellary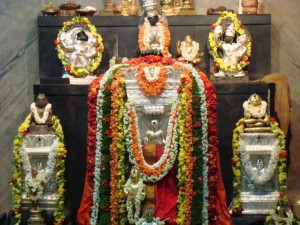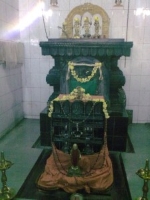 Bangalore Uttaradimutt Mruttika Vrundavana
HariharMruttika Vrundavana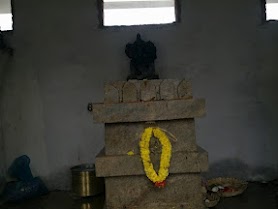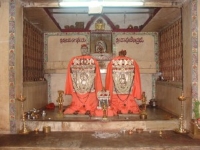 Chennai – Navavrundavana Mruttika Vrundavana
HospetMruttika Vrundavana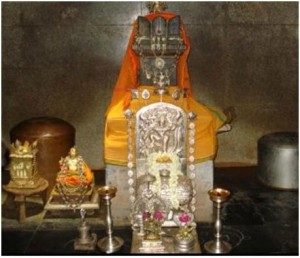 Dharapuram Jayatirtharu