Sri Krishna Dwaipayana Tirtharu – click
Ashrama gurugalu – Vedavyasa Theertharu & Vedanidhi Teertharu (jointly)
Ashrama Shishyaru – not given to any body
Period – 1600-1669
Vrundavana pravesha – Jyesta Shudda Pournami of Soumya Samvatsara
Vrundavana – Kusumurthi near Bheema River Raichur

He does not belong to any Mutt Parampare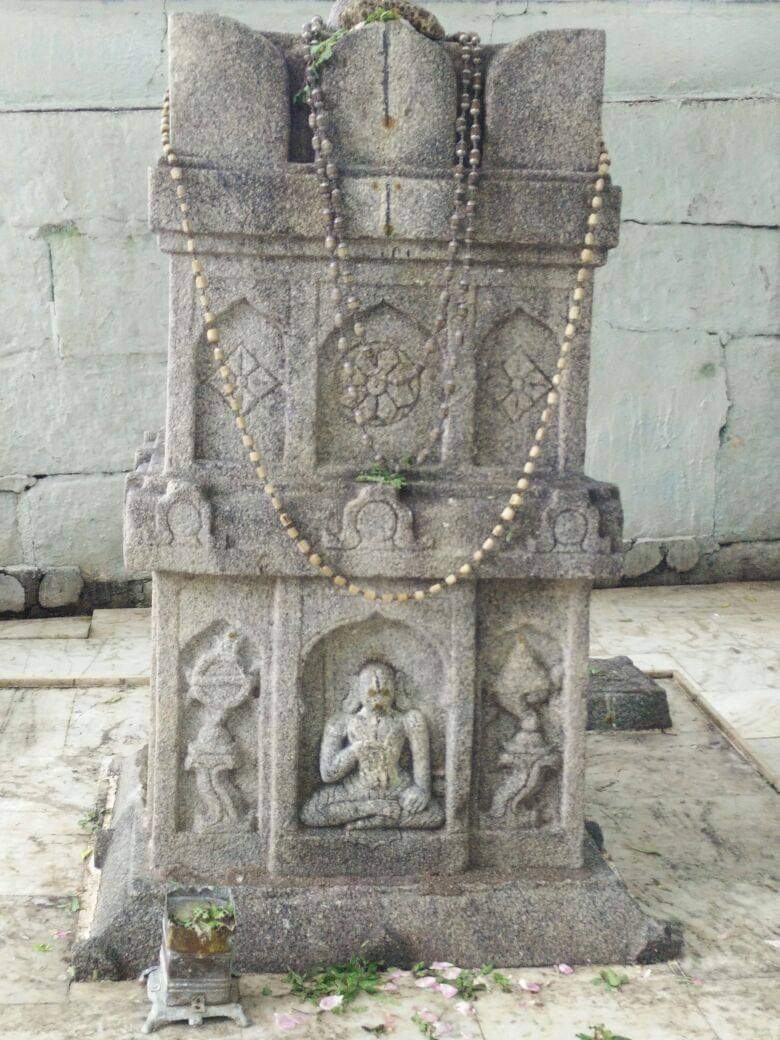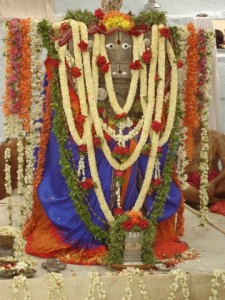 Click for Devaranama on Krishna Dwaipayana Tirtharu
Getting Sanyaasaashrama –
When Sri Vedavyasa Teertharu was on his for Chaturmasya Vrata, a boy fell down into river and with his power Sri Vedavyasa Teertharu saved him and gave him ashrama, and named him as Krishna Dwaipayana. After getting Sanyashrashrama, Krishnadwaipayanaru did akhanda tapas of one Crore Vedavyasa mantra japa and had the darshan of Sri Badarayanaru (Sri Vedavyasa Devaru). That is why his name is after Sri Vedavyasadevaru (whose other name is Krishna Dwaipayana).

Krishna Dwaipayanaru went to Vaikunta Yatre in a vimana : –
CLICK THE LINK FOR SOURCE COPY FROM "KALIYUGA KALPATARU" BY RAJA GURURAJACHARYA
+ +
ರಾಯರು ಆಗಸದಲಿ ನೋಡಿ ನಮಿಸಿದ ಸನ್ನಿವೇಶವನ್ನು ಜಗನ್ನಾಥದಾಸರು ವರ್ಣಿಸಿದ್ದಾರೆ.
"ಯತಿವರ ದೂರಿದ ಮೃತಿಗೈಯಲಾಗಸ ಪಥದಲಿ ಕಂಡಾನತಿಸಿದ ಮಹಿಮಾ" – ಜಗನ್ನಾಥದಾಸರು
ಉಲ್ಲೇಖ – "ಕಲಿಯುಗ ಕಲ್ಪತರು" 2007 edition page 759

Once Sri Raghavendra Swamigalu was doing paata to his disciples. It was Jyesta Shudda Pournami of Soumya Samvatsara. All of a sudden Rayaru, got up, looked at the sky and offered his reverence with hands clasped. Rayaru asked about his yatre, upon which Sri Krishna Dwaipana Theertharu showed two of his fingers thrice.  As it was not understood by the disciples, they curiously enquired as to why Swamiji did so. In reply, Swamiji replied that Sri Krishna Dwaipayanaru was departing from this world in a vimana. On seeing me, he paid his respects from the space, which Rayaru too reciprocated.   While offering the reverence once again, he asked me whether it was certain that I too would reach the Lord Sri Hari, after a period of two years, two months and two days. I nodded my head to say yes. That is all".

The significance of two of his fingers thrice : –
It means two years, two months and two days.   Sri Krishna Dwaipayanaru entered Vrundavana on Jyesta Shudda Pournami. It was exactly after two years, two months, and two days that Sri Rayaru entered Vrundavana on Shravana, Bahula Dwiteeya.   Though Krishnadwaipayana attained sanyasa in the tradition of Uttaradi Mutt, overtaken by renunciation, he refused to lead the Mutt as its pontiff. A soul of great intellect as he was who kept his feelings within, he always devoted his time to Japa, Tapa, teaching and discourse.  His Vrundavana is located at Kusumurthi, a Village on the banks of the river Bheema in Raichur  District.    Krishnadwaipayana chose that place as it was flanked by the river Bheema, had the "Sangama" of Krishna and Bheema at a nearer distance, there is Sangameshwara's divyasannidhana, ; further more, it was the abode of the great Jnaani Sri Jithamithra Theertharu (Source : Kaliyuga Kalpataru, etc)When Sri Vedavyasa Teertharu was on his for Chaturmasya Vrata, a boy fell down into river and with his power Sri Vedavyasa Teertharu saved him and gave him ashrama, and named him as Krishna Dwaipayana.  After getting Sanyashrashrama, Krishnadwaipayanaru did akhanda tapas of one Crore Vedavyasa mantra japa and had the darshan of Sri Badarayanaru (Sri Vedavyasa Devaru). That is why his name is after Sri Vedavyasadevaru (whose other name is Krishna Dwaipayana). For some time he was doing the pooja to Sri Moola Ramachandra Devaru and later on by the order of Sri Vedanidhi Theertharu, he returned the idols back to moola Uttaradi mutt samstana.Once Sri Raghavendra Swamigalu was doing paata to his disciples. It was Jyesta Shudda Pournami of Soumya Samvatsara. All of a sudden Rayaru, got up, looked at the sky and offered his reverence with hands clasped. Rayaru asked about his yatre, upon which Sri Krishna Dwaipana Theertharu showed two of his fingers thrice.  As it was not understood by the disciples, they curiously enquired as to why Swamiji did so. In reply, Swamiji replied that Sri Krishna Dwaipayanaru was departing from this world in a vimana. On seeing me, he paid his respects from the space, which Rayaru too reciprocated.   While offering the reverence once again, he asked me whether it was certain that I too would reach the Lord Sri Hari, after a period of two years, two months and two days. I nodded my head to say yes. That is all".It means two years, two months and two days. Sri Krishna Dwaipayanaru entered Vrundavana on Jyesta Shudda Pournami. It was exactly after two years, two months, and two days that Sri Rayaru entered Vrundavana on Shravana, Bahula Dwiteeya.   Though Krishnadwaipayana attained sanyasa in the tradition of Uttaradi Mutt, overtaken by renunciation, he refused to lead the Mutt as its pontiff. A soul of great intellect as he was who kept his feelings within, he always devoted his time to Japa, Tapa, teaching and discourse.  His Vrundavana is located at Kusumurthi, a Village on the banks of the river Bheema in Raichur  District.    Krishnadwaipayana chose that place as it was flanked by the river Bheema, had the "Sangama" of Krishna and Bheema at a nearer distance, there is Sangameshwara's divyasannidhana, ; further more, it was the abode of the great Jnaani Sri Jithamithra Theertharu (Source : Kaliyuga Kalpataru, etc)