Aradhana – Margashira Shudda Chaturthi
Vrundavana – Karampondi  – 3 kilometer from  Polur
(Tiruvannamalai district, TN)
Poorvashrama nama – Thammanna Nayak
Period – 1810 to 1862

Ashrama Gurugalu – Sri Satyaparayana Tirtharu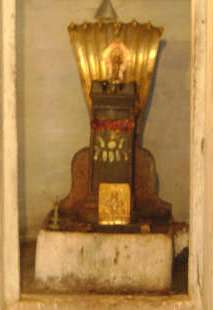 He wrote Commentary on Harikathamruthasara of Sri Jagannathadasaru
River Cheyyar, also known as Baahuda nadhi has a lot of great temples on its banks. On the banks of this river lies a beautiful small village named Karapoondi. Three kilometers to the east of Polur on the Vandavasi – Polur road lies this village surrounded by bountiful green fields well nourished by the river Cheyyar. In the middle of the village, in the brahmin street, at the northern end is a house with tiled roof, it can be described as a choultry rather than a house. This place was sanctified by the presence of Sri Sankarshanaru who lived here. A great sanyasi, who had food just to sustain life and was a kalpavriksha in the true sense.
Poorvashrama and childhood :
Sri Sankarshanaru in his poorvashrama was known as Thammanna Nayak. His ancestors hailed from Kurla Hosur, a village on the banks of river Malaprabha.  Nayak family was engaged in the trade of silver, gold, diamond and pearl and shifted to Dharwar to pursue their business.    His father's name was Dhumappa Nayak who had two wives.
Thammanna Nayak was born in the year 1810 as the second child to Sri Dhumappa Nayak's second wife. It is also said that he was born with the blessings of Sri Satyadharma Theertharu of Holehonnuru. When Thammanna attained the right age, his parents performed his upanayana. Thammanna learnt all the granthas from Sri Beemavarahachar who was also living in their house. Thammanna was keenly observing panchebeda gnana, taratamya and also observing without fail ekadashi and harivasara. Observing Thammanna's disciplined life in that young age, Sri Beemavarahachar used to call him as 'Rishi'. Thammanna got married at the right age and had two children. His wife died when he was twenty two years old and he was not interested in marrying for the second time.
Udupi Yatra :

Thammanna reached Udupi and mastered the 37 granthas of Sri Madhwacharya under the guidance of Sri Vishwapriya Theertharu of Sodhe Matha. Meanwhile, Sri Satya Santhushta Thirtharu and Sri Satya Sankalpa Thirtharu were doing Sri Rama Vedavyasa puje at the same place for years. Due to this the matha landed in debt and they pledged the priceless navaratha mantapa and golden gangala (gifted by Srimathi Raji Bai of Arani Jagir Samasthana) with Ramanna Nayak, brother of Thammanna. Ramanna gave enough money to the matha without hesitation.
After some years, Sri Satya Parayana Thirtharu took over the reins of the matha after Sri Satya Santhusta Thirtharu. Srigalu during his sanchara camped at Ramanna Nayak's house and performed Sri Rama Vedavyasara puje for two months. One day, he opened up with Ramanna and said, 'Ramanna, my puje seems to be incomplete, my mind wanders away in seeing Rama without the rathna mantapa. I will do sanchara and will repay from the contributions I receive thus towards the pledged items. You may send your representative along with me to whom the money will be deposited. Ramanna agreed to this and Thammanna joined the entourage of Srigalu with the main intention of doing teertha yatra and also to collect the dues.
During the sanchara, Thammanna again started studying under Sri Satya Parayana Thirtharu. After mastering the shastras and granthas, Thammanna did 'mangala' and bore the expenses of day's puje. Srigalu asked Thammanna to consider the navrathana mantapa and gangala pledged with his brother as guru dakshina.  A Rudramsha and a vairagyaseelaru, a great saint to be, Thammanna without hesitation and with detached mind gave up the items as guru dakshina to Rama Vedavyasaru. Srigalu ordained Thammanna to send message to his brother. As per his guidance, Thammanna drafted two letters to his brother Ramanna, one letter certifying that all dues have been received from the matha and the second one requesting that the navarathna mantapa and the golden gangala be delivered to the matha's messenger. Ramanna who received the letters, delivered the pledged items of the matha to the messenger. The matha's debt was cleared and the pledged items were restored, seeing his Rama in his gloriest past and having found a great sishya in Thammanna, Sri Satyaparayana Theertharu was very happy and continued his sanchara to propagate madhwa philosophy.
Ramannna spent good time in waiting for the money collected from the matha which was not forthcoming. There was no response for his letter from Thammanna. So Ramanna went in search of Thammanna and learnt what had happened. He returned home with Thammanna heavy in heart for the loss.  Thammanna relieved his brother of his disturbed mind by declaring that the amount of loss may be recovered from his share of the family wealth and whatever remains thereafter may be enjoyed by his Ramanna.
Thammanna becomes Sankarshana Wodeyaru :
Thammanna was a great gnani and a saint in the true sense, who had the gnana that Sri Hari is the Sarvothama and everything moves as per His wish – laid all his karma phala at Sri Hari's lotus feet. Thammanna at the age of 32 years left for Udupi to get guru upadesha and sanyasa ashrama from Sri Satya Parayana Theertharu. Srigalu tried to convince him that he should remain a grahastha. Ramanna also pleaded with his brother to reconsider his decision – all efforts failed and Thammanna was determined to have sanyasa ashrama. Finally, Srigalu gave him sanyasa ashrama and named him as Sri Sankarshana Wodeyaru and gave him a silver Sri Venugopala Vigraha for his daily puje. Sri Sankarshanaru stayed in his house for some time and shifted to Sri Vittala Swamy temple in the agrahara and lived on bikshe offered to him.
He went on yatre to Tirupati and the Sri Venkatesha appeared in his swapna and directed him to go to Sholingur (Gatikachalam) for the darshan of Sri Yoga Narasimha and Sri Yoga Anjaneya. After his Sholingur yatre, Sri Sankarshanaru proceeded to Vellore and stayed there for nine years – he re-organised the matha activities and restored the puje and seva to Sri Satyajiraya Theertharu.
He imparted his vast knowledge to his sishyas. He was a great example of a sanyasi who had preached the tenets of madhwa philosophy to each and everyone who approached him. He wrote a great commentary on Harikathamruthasara. Sri Sankarshanaru continued his teertha yatre to various places along with his sishyas. While on sanchara, as per the desire of his disciple, Sri Sankarshanaru decided to stay in Karapoondi near Polur. The village is so sanctified by the shadow of Sampathgiri hill nearby, the right place Sri Wodeyaru had chosen has his resting place. A matha was constructed for his stay and Sri Wodeyaru continued his puje punashkaras and shastra patha there.
Brundavana Pravesha :
In 1862, Margasirsha maasa, suddha panchami, dundhubi varsha, Sri Sankarshanaru entered brundavana at Karapoondi. Since then regular puje and aradhana continues without fail. An eyewitness account of the brundavana pravesha of Sri Wodeyaru gives us a clear picture of the event. Sri Sankarshanaru instructed his disciple Sanjeevi Rao to make necessary arrangements for the brundavana pravesha suitable for a yathi. Sanjeevi Rao along with others prepared the placed, cleaned and made all arrangements. After some months Sri Sankarshanaru appeared in the swapna of Sanjeevi Rao and said that his instructions have not been carried out properly. While examining the site the next day, Sanjeevi Rao and other devotees were surprised to see that Sri Wodeyaru as 'jadadhari' and all the gopichandana mudras were as fresh as on the day of internment. Eight months after this incident, a brundavana was raised at the site.
The above event and his appearance in the swapna of Venkataramana achar has proved without doubt that Sri Wodeyaru is very much a Rudramsharu. Venkataramana achar, who was thus blessed by Sri Sankarshanaru had composed Sri Sankarshana Kavacham, Kalpadharu Stotra, Mangalashtakam and Navrathana Malika.
Sri Sankarashana Wodeyaru was a 'parama bhakta gnanai', and a great expert in shastras. A yathi varenyaru who had written a commentary on harikathamruthasara – His dyana and darshana will guide us towards the right path.
Karampondi –

In Karampoondi we can also see Anjaneya Temple near Swamiji Brindhavan where we can see all the three orms Hanuma, Bhemma and Madhwa in a single idol.
In Polur Lord Narashima swamy temple is situated in a hill. The Uthsava muthri's face is the face of Lord Narashima, you cannot find such a murthi any where. Sankarshana Odeyaru had his brindhavana in Karampoondi where the shadow of the hill falls. The lord Narashima has various mahimas in which I experienced in my life.
Acknowledgement : The above is a brief taken from 'Sri Sankarshana Vijayam' authored by Late Sri N.S. Lakshmana Rao, Arani.  With thanks to Madhwa Piligrimage Web Blog