ಸುಬ್ರಹ್ಮಣ್ಯಸ್ಯ ಮಹಿಮಾ ವರ್ಣಿತುಂ ಕೇನ ಶಕ್ಯತೇ |
ಯತ್ರೋಚ್ಛಿಷ್ಠಮಪಿ ಸ್ಪಷ್ಠಂ ಶ್ವಿತ್ರಿಣ: ಶೋಧಯತ್ಯಹೋ ||
सुब्रह्मण्यस्य महिमा वर्णितुं केन शक्यते ।
यत्रोच्छिष्ठमपि स्पष्ठं श्वित्रिण: शोधयत्यहो ॥
subrahmaṇyasya mahimā varṇituṁ kēna śakyatē |
yatrōcchiṣṭhamapi spaṣṭhaṁ śvitriṇa: śōdhayatyahō ||(pashchima teertha prabandha shloka 37)
Who has the capacity to describe the mahima or importance of the Subramanya kshetra.  Even the left overs of the food of Brahmins, would cure severe skin diseases like kusta completely. In Subramanya, if a devotee does roll on the leaves and over the food remains of the Brahmins, (enjalu ele), then all his skin diseases would be cured. Sri Vadiraja Tirtharu in his Teertha prabandha has clearly mentioned the importance of Subramanya kshetra as above.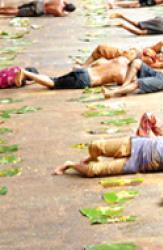 What is "Made Snaana" ?
Made snaana refers to rolling over the food remains of the Brahmins (enjalu ele) with the intention of getting their skin diseases cured.
Since when this is in practice ?
It is in practice even before Vadiraja Tirtha's visit to Kukke Subramanya.
Whose enjalu (food remains) one has to roll?
It should be the leaves of brahmins.
What now the people are doing?
Now the people are  rolling over all the leaves irrespective of caste, creed.
Actually the practice at Kukke is there since a very long time, more than 700 + years.  It is not a new custom.  Many people have experienced in the past and even now also.  But one must note that the people who are rolling over must have done on the enjalu ele (remains of leaves after bhojana) of shrotriya brahmins.  But if we are rolling on the leaves of all the people,  there may be people who are sitting for bhojana who themselves may be having diseases.  It may spread further diseases.   As such, the opposition from some section may be a welcome opposition to Made snaana.
But one more factor also may be considered instead of banning made snaana – i.e.,  for those who are doing made snaana, they shall be restricted to a few leaves of brahmins only and not on all leaves.