Sri Raghunatha Tirtharu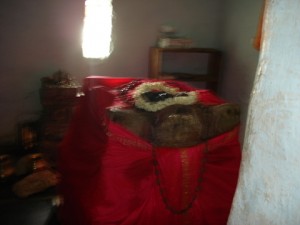 Click for the pdf file on Sri Raghunatha Tirtharu
Period – 1444 – 1502AD

Vrundavana @ Malakheda

Ashrama Gurugalu – Sri Vidyanidhi Tirtharu (YaragoLa)

Ashrama Shishyaru – Sri Raghuvarya Tirtharu (Navavrundavana)
raGunaathagurum noumi vidyaanidhikarOdbhavam |
kUrmO varuNagangE cha yasya pratyakShataam gataa: |
ರಘುನಾಥಗುರುಂ ನೌಮಿ ವಿದ್ಯಾನಿಧಿಕರೋದ್ಭವಂ |
ಕೂರ್ಮೋ ವರುಣಗಂಗೇ ಚ ಯಸ್ಯ ಪ್ರತ್ಯಕ್ಷತಾಂ ಗತಾ: |
रघुनाथगुरुं नौमि विद्यानिधिकरोद्भवं ।
कूर्मो वरुणगंगे च यस्य प्रत्यक्षतां गता: ।
He is the 12th Yati from Srimadacharyaru and 7th Yati from Sri Jaya Tirtharu.
Contemporaries –  Sri Purandaradasaru, Kanakadasaru,  Sri Vibudendra Tirtharu, Sri Sripadarajaru, Sri Vyasarajaru, Sri Raghottama Tirtharu, etc.
http://www.sumadhwaseva.com/yatigalu/sripadaraja-mutt/sripadarajaru/who-gave-title-sripadaraja/ –  click
Once Sri Vibudendra Tirtharu, was staying in Koppara Narasimha kshetra.  He was doing Srimannyayasudha paata to Sri LakshminarayaNa Tirtharu.  Sri Raghunatha Tirtharu came there on tour and stayed there for some time. Sri Lakshminarayana Tirtharu had the opportunity of presenting the anuvada of Srimanyaya sudha in front of Sri Raghunatha Tirtharu and vidya guru Sri Vibudendra Tirtharu. Overwhelmed with joy, Sri Raghunatha Tirtharu felt happy and praised Lakshminarayana Tirtharu and gave the title "Sripadaraja" in front of Sri Vibudendra Tirtharu. That was the vidyaa pakshapatitva of Sri Raghunatha Tirtharu.
Miracle by Sri Raghunatha Tirtharu –
Once Srigalu had visited a village.  There one of the brahmana had died.  The wife of the brahmana came to Srigalu for permission for sahagamana and did the namaskara.  Not known about the death of the brahmana, and without being asked by her, he gave the blessings that she shall have eight children "asta putrO bhava".   All were surprised.  The woman was shocked and surprised to hear the swamiji's blessings.  The shishyaas informed the swamiji what had happened to the brahmana.   Swamiji told that those are the words of Sri Ramachandra and not mine, and that can't be untrue.     It so happened that the dead brahmana got up, and he lived for long time, and he got eight children as blessed by the swamiji.  The same has been explained in Satyanidhi Vilasa as follows :
prashaanta kaantaanugamOdyaa taanataa bhavaaShTa putrEShTa munOditaa sati |
sutaana vaa paaShTha dhavEna jIvataa dadhEShTha putryaaKya mapisvamanvayaM |
प्रशांत कांतानुगमोद्या तानता भवाष्ट पुत्रेष्ट मुनोदिता सति ।
सुतान वा पाष्ठ धवेन जीवता दधेष्ठ पुत्र्याख्य मपिस्वमन्वयं ।
ಪ್ರಶಾಂತ ಕಾಂತಾನುಗಮೋದ್ಯಾ ತಾನತಾ ಭವಾಷ್ಟ ಪುತ್ರೇಷ್ಟ ಮುನೋದಿತಾ ಸತಿ |
ಸುತಾನ ವಾ ಪಾಷ್ಠ ಧವೇನ ಜೀವತಾ ದಧೇಷ್ಠ ಪುತ್ರ್ಯಾಖ್ಯ ಮಪಿಸ್ವಮನ್ವಯಂ |
VyasamusTi turned Koormaroopi saaligrama :
Once Sri Raghunatha Tirtharu was on digvijaya tour, came to pampakshetra.  There he was welcomed by Sri Vyasarajaru, Vijayanagara king.  Swamiji told that he is on tour and he is going to Kashi for ganga snaana.    It was on pingaLanaama samvatsara, phalGuna shudda saptami day, during aruNodaya kaala gangadevi came in the form of pravaaha.  Sri Vyasarajaru, Sri Raghunatha Tirtharu, Sri Raghuvarya Tirtharu, and Vijayanagara king all had the snaana, daana and other kriyaas.  Sri Raghuvaryaru requested Sri Raghunatha Tirtharu that Ganga has come here itself and that there is no necessity of going to Kashi. Swamiji replied that Ganga might have come for having the darshana of Sri Ramachandra devaru.   Sri Raghunatha Tirtharu was doing the nirmalya visarjana, the vyasamushTi rolled out and reached the river but could not be traced.  Sri Raghunatha Tirtharu observed fasting for seven days and was staying near the river only and on the seventh day, the vyasamusti came out floating and came in the form of korma roopa. Sri Raghunatha Tirtharu did the kshera abhisheka of   koormaroopi Sri Vedavyasa devaru and even today it is being worshipped in Uttaradimutt.  Further, the saligrama will be rotating as long as it in ksheera (milk).
Gave darshana to Sripadarajaru on his way to devaloka:
On the day of his exit from the bhooloka, Sri Raghunatha Tirtharu, was travelling in a beautiful vimaana to devaloka.  Sri Raghunatha Tirtharu threw a devaloka pushpa on Sripadarajaru from the vimaana (aeroplane).  Sripadarajaru was doing sarvamoola paata to his shishyaas.  Immediately, Sripadarajaru took that flower and had a touch of that flower on his eyes and kept it on his head.  Unknown about what had happened, the shishyaas asked as to what had happened, then Sripadarajaru told them that Sri Raghunatha Tirtharu has departed from this bhooloka and he had thrown that flower on him.  This can be seen from the shloka by Sri Nidhi Tirtha Virachita Sripaadaraja stotra :
shrImadyashIsha raGunaathamunErvimaanaat |
puShTEsvamUrdhnipatatiprasamIkShachOktvaa |
saMprEritOru raGunaathamunIshvaraama |
shrIpaadaraaja guruvEstu nama: shubhaaya |
श्रीमद्यशीश रघुनाथमुनेर्विमानात् पुष्टेस्वमूर्ध्निपततिप्रसमीक्षचोक्त्वा ।
संप्रेरितोरु रघुनाथमुनीश्वराम श्रीपादराज गुरुवेस्तु नम: शुभाय ।
ಶ್ರೀಮದ್ಯಶೀಶರಘುನಾಥಮುನೇರ್ವಿಮಾನಾತ್ 
ಪುಷ್ಟೇಸ್ವಮೂರ್ಧ್ನಿಪತತಿಪ್ರಸಮೀಕ್ಷಚೋಕ್ತ್ವಾ |
ಸಂಪ್ರೇರಿತೋರು ರಘುನಾಥಮುನೀಶ್ವರಾಮ
ಶ್ರೀಪಾದರಾಜ ಗುರುವೇಸ್ತು ನಮ: ಶುಭಾಯ |
"Source – Srisudha"