Sri Satyavratha Thirtharu, Sangli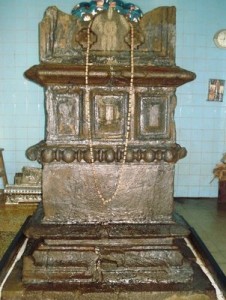 (uttaraadimutt)
Period :     1635-1638



Vrundavana – Sangli, Maharashtra
Poorvashrama name : Sri Ranganathacharya

Ashrama Gurugalu –  Sri Vedanidhi Thirtharu
Ashrama Shishyaru – Sri Satyanidhi Thirtharu

Aradhana –  Palghuna Shudda Shasti

ವೇದನಿಧ್ಯಾಲವಾಲೋತ್ಥ: ವಿದುಷಾಂ ಚಿಂತಿತಪ್ರದ: |
ಸತ್ಯವ್ರತಾಖ್ಯಕಲ್ಪದ್ರು: ಭೂಯಾದಿಷ್ಟಾರ್ಥಸಿದ್ದಯೇ ||
वेदनिध्यालवालोत्थ: विदुषां चिंतितप्रद: ।
सत्यव्रताख्यकल्पद्रु: भूयादिष्टार्थसिद्धये ।
shrI satyavratatIrtharu (saangli)
vEdanidhyaalavaalOttha: viduShaam chintitaprada: |
satyavrataaKyakalpadru: bhUyaadiShTaarthasiddhayE |
"Satya" – It is from him only that the prefix for Uttaradimutt Seers, "Satya" has started.  Earlier to him there was no such practice of putting Satya as prefix.
Mutton converted into flowers and fruits – Once during his visit to Hyderabad, Abdul Qutab Shah of Golkonda wanted to test the spiritual power of  the swamiji.  He brought some meat in a vessel and did the samarpane to swamiji.  When Swamiji sprinkled theertha on the vessel the contains turned flowers and fruits and begged the seer's pardon with sashtanga namaskara for having tested the mighty power of theertha by the swamiji.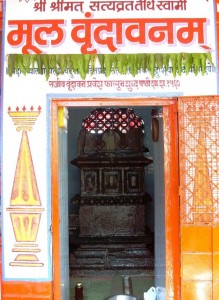 Sri Satyavratha Tirtharu like Rayaru and Vadirajaru entered the brindavana alive.
It is said that  after brindavna pravesha of Sri Satyavratharu, once Sri Satyasandha Teertharu visited sangli, after performing pooja he started Srimannyaya sudha anuvadha.  After  completion of Sudha anuvada, everyone witnessed shaking of  Vrindavana from left to right as if Sri Satya Vratharu was appreciating Sri Satya Sandharu.  This was also witnessed by the King of Sangli which he recorded in his royal diary.
Vrundavana location :
Pt. Sameerachar Katti, Shri Satyavrata Seva Mandal, Near Arya Aparts, Gaon Bag,  Sangli – 416416. Maharashtra. Ph : 0233 – 2333525
(Souce – Uttaradimutt, and Sri Shrish V Gudi)

Photos of 2013 Satyavrata Tirtha's aradhana in the presence of Sri Satyatma Tirtharu