ಪೂರ್ಣಪ್ರಜ್ಞಸುಹೃತ್ ಪಾದ್ಮರಾಜಮಂದಿರವರ್ಧಕಂ |
ಶ್ರೀವಿಜ್ಞಾನನಿಧಿಂ ವಂದೇ ವೇದವಿಜ್ಞಾನ ದರ್ಶಕಂ |
पूर्णप्रज्ञसुहृत् पाद्मराजमंदिरवर्धकं ।
श्रीविज्ञाननिधिं वंदे वेदविज्ञान दर्शकं ।
பூர்ணப்ரஜ்ஞஸுஹ்ருத் பாத்மராஜமம்திரவர்தகம் |
ஶ்ரீவிஜ்ஞாநநிதிம் வம்தே வேதவிஜ்ஞாந தர்ஶகம் |
పూర్ణప్రజ్ఞసుహృత్ పాద్మరాజమందిరవర్ధకం |
శ్రీవిజ్ఞాననిధిం వందే వేదవిజ్ఞాన దర్శకం |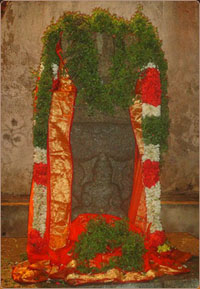 Aradhana day – Bhadrapada Krishna Trayodashi
Father –  Sri Krishnamurthy Achar – later became Sri Satyanidhi Tirtharu of Sripadaraja Mutt
Poorvashrama name – Sri Bheemachar
Birth place – Hebbani near Mulbagilu
Ashrama Gurugalu – Sri Vijayanidhi Tirtharu
Ashrama Shishyaru -Sri Keshavanidhi Tirtharu
Ashrama sweekara – 1987
Vrundavana Pravesha – 2010
He is the 35th peetadhipathi of Sripadaraja Mutt
Title – He was conferred the title "Yatikula Chakravarthi" by Sri Suyateendra Tirtha Sripadaru of Mantralaya Rayara Mutt, just 8 days before his entering the vrundvana.
He was 92 years and completed 25 years of Chaturmasya
Mruttika Vrundavana of Padmanabha Tirtharu –  He installed the Mruttika Vrundavana of Sri Padmanabha Tirtharu, the moola yathi for Sripadaraja Mutt at Mulabagilu.
He had done the 600th Aradhana of Sripadarajaru in a great style, with throughout the year aradhana at Mulbagilu and other places.  The 600th year was a memorable which has to be remembered for a long long time.    During that period he has honoured almost all Madhwa pandits and honoured those who are unrecognised also.
Sri Vignananidhi Tirtharu has done the Mruttika Vrundavana Pratistapane of our Shakambari Nagara Rayara Mutt on 25.6.1993.  He was a regular visitor to Our Shakambari Rayara Mutt.  He was proudly telling that our mutt is a branch for Madhwa Tatvajnana. He has done the Gopinatha Devara pooja in our Mutt almost every year since the inauguration.  He was claiming that our Shakambari Nagar Rayara Mutt is  his home town (tavaru mane).
He was an expert in Sankya shastra.
He installed Sripadaraja Mruttika Vrundavana at Rajarajeswari Nagar, Bangalore
He founded the National Institute for Vedic Sciences in 2001 with the vision of building peace, harmony and happiness
Sri Devendra Tirtharu & Sri Vijnananidhi Tirtharu –    Sri Vijnananidhi Tirtharu was very much fond of Sri Devendra Tirtharu, who spent most of his time in Mysore.  As Sri Devendra Tirtharu was not from any parampare, he had no place for his vrundavana.  At that time came Sri Vijnanidhi Tirtharu who gave the place for his Vrundavana at Mulabagilu near Narasimha Tirtha.   He was telling in the first aradhana day of Sri Devendra Tirtharu that "Sri Devendra Tirtharu got sanyasa from vairagya, whereas most sanyasis take sanyasa and then try to get vairagya.  Such was the greatness of Devendra Tirtharu".