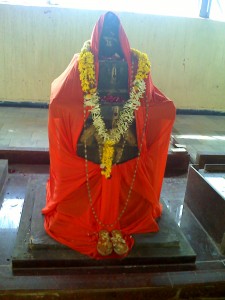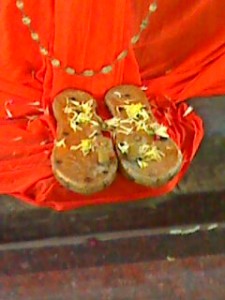 Paduke used by Madhava Tirtharu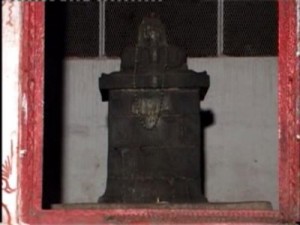 साधिताखिलसत्तत्वं बाधिताखिलदुर्मतं ।
बोधिताखिलसन्मार्गं माधवाख्ययतिं भजे ।
ಸಾಧಿತಾಖಿಲಸತ್ತತ್ವಂ ಬಾಧಿತಾಖಿಲದುರ್ಮತಂ |
ಬೋಧಿತಾಖಿಲಸನ್ಮಾರ್ಗ ಮಾಧವಾಖ್ಯ ಯತಿಂ ಭಜೇ

|
ஸாதிதாகிலஸத்தத்வம் பாதிதாகிலதுர்மதம் |
போதிதாகிலஸந்மார்கம் மாதவாக்யயதிம் பஜே |
సాధితాఖిలసత్తత్వం బాధితాఖిలదుర్మతం |
బోధితాఖిలసన్మార్గం మాధవాఖ్యయతిం భజే |
He is the third direct disciple of Sri Acharya Madhwa, After Sri Padmanabha Tirtharu, Narahari Tirtharu.
JANMA NAAMA – VISHNU SHASTRI
UPADESHA GURUGALU –   SRI MADWACHARYARU
VRINDAVANA – MANURU
It is on the banks of the river Bheema.

Vrindavana pravesha  – BHADRAPADA BAHULA AMAVASYE (MAHALAYA AMAVASYE DAY)
PERIOD : 1333-1349 AD
HIS SUCCESSOR – AKSHOBHYA THIRTHARU
Mruttika Vrundavanas –
At   Tambihalli – Bangalore  Basavapura  near  HAL, (Kolar – Mulabagilu Road)  a   mrittika  brindavan   of   Sri  Madhava  Theertharu   is  available  for worship.
At   Chennai Perambur Srinivasa street
AT   Tuticorin  Meelavittan road
Now, the headquarters of this matha is at Tambihalli , Mulubagal, Kolar District in Karnataka. Madhava Thirtha's disciples formed an institution which exists even today as Majjigehalli matha at Thambihalli near Mulubagal. Shri Madhava Thirtha, entered brindavan at Hampi and his mortal remains were later shifted to Mannur near Gulbarga. The seat of the pontificate was then moved from Mannur to Thambihalli.
Moola Vigraha of the Mutt –
Srimadwacharya kararchita Sri Veera Rama idol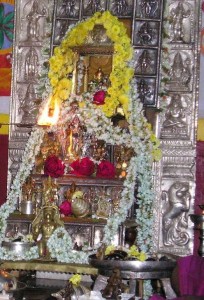 ಒಮ್ಮೆ ಇವರು ಪೂಜೆಗೆ ಕುಳಿತಿದ್ದಾಗೆ, ಇದ್ದಕ್ಕಿದ್ದ ಹಾಗೇ ತಾವು ಕುಳಿತಿದ್ದ ಜಾಗದಿಂದ ಸ್ವಲ್ಪ ದೂರ ಹೋಗಿ ತಮ್ಮ ಎರಡೂ ಕೈ ಜೋಡಿಸಿ ನಮಸ್ಕರಿಸತೊಡಗಿದರು.  ಅಲ್ಲಿ ಬೇರೆಯವರಿಗೆ ಯಾರೂ ಕಾಣಲಿಲ್ಲ.  ಮಾಧವತೀರ್ಥರು ಆ ಅದೃಶ್ಯನ ಕೈಲಿಯೇ ತೀರ್ಥವನ್ನೂ ಸ್ವೀಕರಿಸಿದರು.  ಬೇರೆಯವರಿಗೆ ಅಲ್ಲಿ ಏನು ನಡೆಯುತ್ತಿದೆಯೆಂದು ಅರ್ಥವಾಗಲೇ ಇಲ್ಲ.  ನಂತರ ಪೂಜೆಯಾದ ಮೇಲೆ ಕುತೂಹಲವನ್ನು ತಡೆಯಲಾರದೆ ಶಿಷ್ಯರು –  ನೀವು ಯಾರಿಗೆ ಕೈ ಮುಗಿದಿದ್ದು? ಯಾರಿಂದ ತೀರ್ಥ ಸ್ವೀಕರಿಸಿದ್ದು? ಎಂದು ಪ್ರಶ್ನಿಸಲು, ಮಾಧವತೀರ್ಥರು ಹೇಳಿದರು.   ಅಲ್ಲಿ ಪೂಜೆ ಮಾಡುತ್ತಿದ್ದುದು ಶ್ರೀಮದ್ವಾಚಾರ್ಯರೇ.  ಅವರೇ ಪ್ರತ್ಯಕ್ಷ ಬಂದು ಪೂಜಿಸುತ್ತಿದ್ದುದನ್ನು ನೋಡಿ ನಮಸ್ಕರಿಸಿದೆ.  ನಂತರ ಮಧ್ವಾಚಾರ್ಯರು ತೀರ್ಥವನ್ನು ತಾವು ತೆಗೆದುಕೊಂಡು ನನಗೂ ನೀಡಿದರು ಎಂದರು"
Once he was sitting for pooja.  All of a sudden, he got up from the pooja seat and did namaskara by joining both his hands and took theertha from some body.  But no one was seen there.  The shishyas were surprised at this and they questioned as to from whom he took the theertha and did namaskara.  They got the reply that Acharya Madhwa was doing the pooja and was doing the pooja of the idols which he had given it to Madhava Tirtha and that he took the tirtha himself and gave to me also.    It means that Sri Madhava Tirtharu saw Acharya Madhwa even after he reached Badarikashrama.

Granthas –
Vyakhyaana on Parasharasmruti with the title Parashara Madhwa Vijaya   – BUT UNAVAILABLE
Commentaries on four vedas following the guidelines shown by Acharya Madhwa in Rigbhshya
ವೃಂದಾವನ – ಮಣೂರು – ಗುಲ್ಭರ್ಗದಿಂದ 65 ಕಿ.ಮೀ ದೂರದಲ್ಲಿದೆ
How to visit Mannur?
Reach Gulbarga –  From their it is about 65 kms to Manuru., Post – Mannurm Tq – Afzalpur, District – Gulbarga
Mannur is the place of stay and vrundavana for many Madhwa Philosophers.
1. Sri Yadavaryaru spent most of his time there only.
2. There is the idol of Chenna Keshava which got the pratistapane by Dhruvarajaru.
3. Sri Vedesha Tirtha's Vrundavana is there
4. It is the Penance place of Sri Govinda Odeyar.
Also visit the site :
http://mannur.uttaradimath.org/