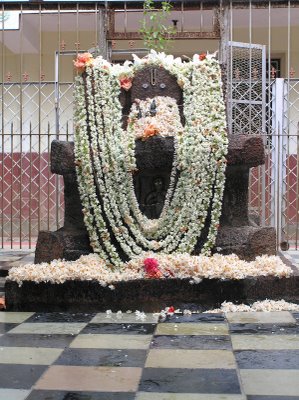 Sri BRAHMANYA TIRTHA SREEPADANGALAVARU
Vrundavana – Abboor
Aradhana – Vaishaka Krishna Ekaadashi
Ashrama Gurugalu – Sri Purushottama Tirtharu
Ashrama Shishyaru – Sri Vyasarajaru

Amsha – Surya
ಕಂಸಧ್ವಂಸಿಪದಾಂಭೋಜ ಸಂಸಕ್ತೋ ಹಂಸಪುಂಗವ: |
ಬ್ರಹ್ಮಣ್ಯಗುರುರಾಜಾಖ್ಯೋ ವರ್ತತಾಂ ಮಮ ಮಾನಸೇ ||
Kamsadhwamsi padaambhOja samsaktO hamsapungava: |

brahmaNyagururaajaakYO vartataam mama maanasE |
(ಶ್ರೀ ವ್ಯಾಸರಾಜರು – ತಾತ್ಪರ್ಯಚಂದ್ರಿಕಾದಲ್ಲಿ)  (Sri vyasarajaru in Tatparya chandrika)
ಸಮುತ್ಸಾರ್ಯತಮ:ಸ್ತೋಮಂ ಸನ್ಮಾರ್ಗ ಸಂಪ್ರಕಾಶ್ಯಚ |
ಸದಾ ವಿಷ್ಣುಪದಾಸಕ್ತಂ ಸೇವೇ ಬ್ರಹ್ಮಣ್ಯಭಾಸ್ಕರಮ್ ||
samutsaaratama:stOmam sanmaarga samprakaashyacha |
sadaavishNupadaasaktam sEvE brahmaNya bhaaskaram|
(ಶ್ರೀ ವ್ಯಾಸರಾಜರು – ನ್ಯಾಯಾಮೃತದಲ್ಲಿ)
ಮಾಧ್ವ ಪರಂಪರೆಯಲ್ಲಿ ಕಂಡು ಬಂದ ಮಹಾ ಶ್ರೇಷ್ಠ ಯತಿಗಳ ಯಾದಿಯಲ್ಲಿ ಕಾಣುವ ಶ್ರೀ ವ್ಯಾಸರಾಜರನ್ನು ಗುರುತಿಸಿ ಆಶ್ರಮ ನೀಡಿದವರೇ ಅಬ್ಬೂರಿನ ಬ್ರಹ್ಮಣ್ಯತೀರ್ಥರು.  ಆಚಾರ್ಯ ಮಧ್ವರ ಪರಂಪರೆಯಲ್ಲಿ ಶ್ರೀಪದ್ಮನಾಭತೀರ್ಥ, ನರಹರಿತೀರ್ಥ, ಮಾಧವತೀರ್ಥರು ಮತ್ತು ಅಕ್ಷೋಭ್ಯತೀರ್ಥರು, ನಂತರ ಜಯತೀರ್ಥರು, ವಿಧ್ಯಾಧಿರಾಜರು, ರಾಜೇಂದ್ರತೀರ್ಥರು, ಜಯಧ್ವಜತೀರ್ಥರ ನಂತರ ಪುರುಷೋತ್ತಮತೀರ್ಥರಿಂದ ಅಶ್ರಮ ಸ್ವೀಕರಿಸಿದ ಮಹಾನುಭಾವರೇ ಬ್ರಹ್ಮಣ್ಯತೀರ್ಥರು.  ಬ್ರಹ್ಮಣ್ಯತೀರ್ಥರ ಕಾಲ ೧೪೪೩ರಿಂದ ೧೪೬೭.  ನರಸಿಂಹನೆಂಬ ಜನ್ಮನಾಮದಿಂದ ಅಬ್ಬೂರಿನಲ್ಲಿ ಜನಿಸಿ,  ೮ನೇ ವಯಸ್ಸಿನಲ್ಲಿ ಉಪನಯನಗೊಂಡು, ಶ್ರೀ ಪುರುಷೋತ್ತಮತೀರ್ಥರಿಗೆ ಸ್ವಪ್ನಸೂಚಿತವಾಗಿ ನರಸಿಂಹನಿಗೆ ಸನ್ಯಾಸವನ್ನು ನೀಡಿ "ಬ್ರಹ್ಮಣ್ಯತೀರ್ಥ"ರೆಂದು ಪ್ರಸಿದ್ಧರಾದರು.

It is Sri Brahmanya Tirtharu who was responsible for the birth, growth, vidya, ashrama of Sri Vyasarajaru.    He was born with the name Narasimha.  Sri Purushottama Tirtharu gave the sanyasa to Brahmanya Tirtharu as per swapna soochana.

ರಾಗ – ಕಲ್ಯಾಣಿ    ತಾಳ – ಛಾಪುತಾಳ
ವೃಂದಾವನ ನೋಡಿರೋ  ನೀವೆಲ್ಲಾ  |
ಆನಂದವನ್ನೆ ಪೊಂದಿರೊ | ಪ |
ರಾಮಾಚಾರ್ಯರ ಪುತ್ರರೋ ಅವರು ಮಾಮನೋಹರ ನೃಹರಿ ದೂತರೋ
ಜನ್ಮ ಅಷ್ಟಕೆ ಬ್ರಹ್ಮಚರ್ಯ ಪೊಂದಿ ಬ್ರಹ್ಮವಿದ್ಯೆಯ ಪಡೆದರೋ |
ಪ್ರೇಮದಿಂದಲಿ ಬಂದು ತಾವ್ ಪುರುಷೋತ್ತಮತೀರ್ಥರ ಸಾರ್ದರೋ | ೧ |
ಕಾಯಜಪಿತನ ತಾನ್ವೊಲಿಸಿ ದೇಶಂಗಳ ಪ್ರೀಯದಿಂದಲಿ ಸಂಚರಿಸಿ |
ಮಾಯಾರಮಣನೂ ಜೀವನೂ ಒಂದೆಂಬ ಮಾಯಾವಾದಿಗಳ ತರಿದು |
ವಾಯುಮತ ಪ್ರೀತಿಯಲಿ ಅರುಹುತ ಪ್ರಿಯ ಅಬ್ಬೂರಲಿ ನೆಲಿಸಿದ | ೨ |
ವಿಟ್ಟಲ ನೃಹರಿ ಪೂಜೆಗೆ ನೇಮಿಸಿ ತಮ್ಮ ಪಟ್ಟ ಶಿಷ್ಯರು ವ್ಯಾಸತೀರ್ಥರ
ಅಟ್ಟಹಾಸದಿ ಸರ್ವಜಿತು ಸಂವತ್ಸರ ಕೃಷ್ಣ ಏಕಾದಶಿ ವೈಶಾಖ
ದಿಟ್ಟ ಗುರುಗೋವಿಂದ ವಿಠಲನ ದೃಷ್ಟಿಸಿ ತನು ಬಿಟ್ಟು ಪೊರಟನ | ೩ |
———————–
Miracles by Brahmanya Thirtharu –
Birth of Sri Vysarajaru

–

Once when Brahmanya Tirtharu was on tour in Bannur, Raamacharya, an aged brahmin died on his way to Gangasnaana.  Ramacharya's wife wanted to do "Sahagamana" with her husband and came to Swamiji for seeking Brahmanya Tirtha Seer's permission for doing so.  But Brahmanya Thirtharu, even before her seeking permission told her "Dheerga sumangalee bhava"., "suputravatee bhava".  On seeing all the pandits were surprised that a widow is being blessed with the boon of dheerga sumangalitva.  Then they appraised him of the si

tuation.  But Swamiji told "It is told by Gopalakrishna Devaru, and he will survive and he will be shataayushi and would have two children".  Saying this, Swamiji gave her "mantrodaka"

.

As soon as she came near the dead body of her husband she did the "prokshana" of Mantrodaka given by the seer and Ramachar got up as if he is getting up from sleep.   Afterwards, Sri Vyasarajaru was born to the aged parents and he was handed over to the Mutt.

Malur

– 

Once there lived a king named Thimmarasa.  He had a son named Sarangadhara.  When Sarangadhara's mother died, Thimmarasa, even though he was aged, he married another Rajakumari.  But Rajakumari as she was young, she was not happy with the marriage.  She wanted to have Sarangadhara (her husband's first wife's son) for her sexual satisfaction.  When Sarangadhara rejected her request, she told her husband that Sarangadhara tried to rape her.  Then the king ordered his servants to cut his son into pieces and throw him in the Kanva River.  The servants obeyed the kings orders.   Sri Brahmanya Tirtharu happened to visit the Kanva river for his "ahneeka" and he saw the Prince cut into pieces.  Realising the facts, Swamiji did the "abhimantrana" of Mruthike on the body of the prince and he gradually developed his legs and arms and he was a normal boy after wards.  It is the same place which is called as Malur named after the incident.

He did the "Bara Parihara" (Famine relief) in Vijaya nagar kingdom by chanting Parjanya Japa

He did the "Nrusimha Dwajastamba" stapane in Brahmanyapura

He did the pratistapane of Mukyaprana in Brahmanyapura alongwith Sreepadarajaru and Sri Vyasarajaru.
Around Channapatna/Abbur –
ABBUR- The Brindhavana of Sri Brahmanya Thirtharu across the KANVA RIVER and surrounded by green fields there emerges a calm serine village ABBUR, the divine resting place of Sri Brhmanya Thirtharu.
Abbur is around 70 kms from Bangalore on the Bangalore-Mysore Highway. Bus facility is very good , Train facility, to Channapatna from Mysore, Bangalore, Mandya, Maddur, etc.If you take a bus going to Mysore from Bangalore, get down at Chanapatna and from there take an auto to Abbur. It is around 6Km from Chanapatna on the way to Kanva reservoir. Also there is local bus from Chanapatna to Abbur.  For Araadhana, special taxies/buses will be there from Channapatna.
In Channapatna – there is Vyasaraja Mutt.
Other visiting places near Abbur-
1.  Malur – It is about 2 kms from Channapatna, where u can see Malur Aprameya temple
2.  Purushottama Guhe – It is about 3 kms from Abbur, where Purushottama Thirtharu entered the cave and he never returned.  It is believed that he is still there doing tapassu.
3. Kambada Narasimha devaru – in Brahmanya pura
4. Mukhyaprana devaru –  Kengal Hanumantharaya  – Vyasaraja prathistita