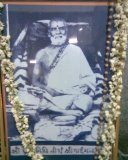 ಸುಧೀನಿಧಿ ಹೃದಾಂಭೋಜ ಷಟ್ ಪದಾಯಿತ ಮಾನಸ: |
ಶಾಸ್ತ್ರಾರ್ಥ ಮಧುದಾತಾ ಹಿ ಪ್ರೇಕ್ಷಾನಿಧಿ ಸುತಾಪಸ: ||
(ಬಿಡಿ ಸನ್ಯಾಸಿಗಳು)
सुधीनिधि हृदांभोज षट् पदायित मानस: ।
शास्त्रार्थ मधुदाता हि प्रेक्षानिधि सुतापस: ॥
Poorvashrama name : Sri Ramannaacharyaru.
Vidya Gurugalu      : Sri Sudhinidhi Teertha Sripadangalavaru.
Vidya Shishyaru          : Haridasarathnam Gopaladasaru, Keda Chandrahacharyaru, Ranganathacharya, Bheemasenarayaru, etc
Sri Sudhinidhi Tirtharu, seeing his age and health, thought of giving ashrama to Ramannacharyaru as his uttaradhikari.  But as Sri Ramannacharyaru was a newly married (second marriage.  His first marriage didn't lost long.  His wife died early.  Then Sudhinidhi Tirtharu himself arranged for the second marriage of Ramannacharyaru).
He was looking after the administration of Sripadaraja Mutt.
Contemporaries : Sri Satyadhyana Tirtharu, Sudhinidhi Tirtharu, Sri Raghuprema Tirtharu, Sri Dayanidhi Tirtharu, etc
Vrundavana                  :  Mulabagilu
He had copied the full text of "Tarka Taandava" of Sri Vyasarajaru, and "Nyaya Deepika" vyakyana of Sri Raghavendra Tirtharu, as directed by Sri Sudhinidhi Tirtharu.  Later in 1932., the same grantha was published by Mysore Oriental Library in 1932 based on the same copy written by Sri Ramannacharyaru.
Honour by Sri Satyadhyana Tirtharu –
He was a very close associate of Sri  Sethuramacharyaru (Sri Satyadhyana Tirtharu).  Ramannacharyaru used to participate in all the Madhwa Siddantha Unnnaahini Sabha, Madhwa Siddantha Abhivruddhikarini Sabha, etc.  Once Satyadhyanaru wished to show the talent of Sri Ramannacharyaru to his shishyas.  So he arranged for Prashnottara programme by Sri Ramannacharyaru.  Sri Medhanidhi Tirtharu was also present on the occasion.  So many pandits started posing questions on various topics, for every questions he was answering without any hesitation, and Sri Satyadhyana Tirtharu was so pleased and honoured him.    Many pandits used to call Ramannacharyaru as "Bhagavatottamaru".
Ramannacharyaru was invited by Sri Vidyarathnakara Tirtharu of Vyasaraja Mutt to take the uttaradhikaritva.  But some how he could not get it. In Sripadaraja Mutt also he could not get the Sanyasa.  Then he tried with Sri Sudheendra Tirtharu of Puttige Mutt.  There also he could not get it.   He tried to get sanyasa through Kundapura Vyasaraja Mutt.  There also he could not get it.
Got sanyasa from Sudhinidhi Tirtharu

–  He went to Mantralaya and did Rayara Seva for many days.  There he got a dream and in his dream, he was directed to go to Tirupathi for Srinivasa Darshana.  He went to Tirupathi.  There he got the darshana of Sri Sudhinidhi Tirtharu in his dream, and he directed him to go back to Mulabagilu to take sanyasa in front of his vrundavana.  Immediately he rushed back to Mulabagilu, left everything, had the full vairagya, and stood in front of Sudhinidhi Tirtha's Vrundavana and sought permission for sanyasa, and took sanyasa.  Thus he became "Sri Prekshanidhi Tirtharu".