Shree Yadavendra thirtharu (Mudumale near Krishna River)
Aradhana – Magha Shukla Hunnime
Vrundavana @ Mudumale
Ashrama Gurugalu – Sri Sudheendra Tirtharu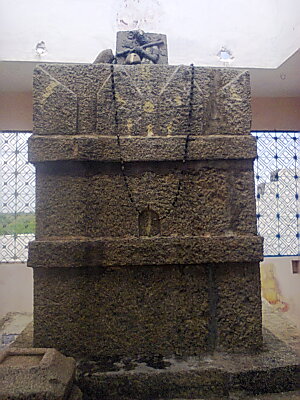 Dhyaana Sloka:
ಯದನುಗ್ರಹಮಾತ್ರೇಣ ಪೂರ್ಣೋಹಂ ಸರ್ವ ಸಂಪದಾ|
ಯಾದವೇಂದ್ರ ಮನಿಶಮ್ ವಂದೇ ವಿದ್ಯಾ ಗುರುಂ ಸದಾ||
यदनुग्रहमात्रेण पूर्णोहं सर्व संपदा।
यादवेंद्र मनिशम् वंदे विद्या गुरुं सदा॥
yadanugrahamātrēṇa pūrṇōhaṁ sarva saṁpadā|
yādavēṁdra maniśam vaṁdē vidyā guruṁ sadā||
Sri Yadavendra Tirtharu one of the close relatives (poorvashrama son in law – sister's son ) of Sri Sudheendra Tirtha's poorvashrama, sought Sanyasa from Sudheendra Tirtharu.  Even from his early age itself, he was demanding for sanyasa from Sudheendraru, but he was refusing.   But he had plenty of jnaana, bhakti, vairagya, and was observing various vrathaas, upavaasaas right from his childhood.  One day, he approached Sri Sudheendra Tirtharu and requested for sanyasa once again.  Sudheendra Tirtharu just to test him asked Whether you need mahasamsthaanadipathya or you are demanding sanyasa just because of vairagya.  At this he told that he does not need maha samsthaanadipathyaâ.  Sudheendra Tirtharu happy with the opinion and vairagya in him gave sanyasa, and gave him phala mantrakshate, with mantra mudra dharana, guroopadesha and named him Sri Yadavendra Tirtha.  He also gave him Sri Garuda Vahana Lakshminarayana devaru, Sri Krishna idols, some saaligraamas, idol of Mukya Pranadevaru and pooja paatres and blessed him.  Yadavendra Tirtharu did the guru seva for several days and went on Tirtha kshetra yatre.  He was not given the Vedanta samrajya by Sri Sudheendra Tirtharu.
With repeated requests from him Sri Sudheendra Tirtharu finally agreed to give him sanyasa but not the uttaradhkarathwa of Mutt.  Yadavendra Tirtharu agreed for that condition and went all round the country for spread of Madhwa Shastra.   Sri Sudheendra Tirtharu gave him sanyasa even before Raghavendra Tirtharu and had sent him for Theertha Yatre.  After 10 years of successful Theertha Yatra, and regular paata pravachana for several shishyaas, he came to Madurai.  At that time Sri Raghavendra Tirtharu was Peetadhipathi and Sri Sudheendra Tirtharu had entered Vrundavana.  Sri Yadavendra Tirtharu came to visit Sri Raghavendra Tirtharu on his sanchara to Kumbakona.
After the Vrundavana pravesha of Sudheendra Tirtharu, Yadavendraru returned back to Tanjore, on his way for southern India Theertha yaatra.  As Sri Yadavendra Tirtharu was ashrama jyesta, Raghavendra Tirtharu came out with Poornakumbha, and invited him to Kumbakona Vidyapeeta and requested him to take over the Vibudendra Tirtha Mutt.  At this Yadavendraru told that he is not interested in the mahasamstanadhipatya and he was only interested in vairagya.  He further told that Raghavendra Tirtharu only is capable of running the Samsthana.   At this Raghavendra Tirtharu requested him to do pooja of Sri Ramachandra Devaru atleast on this day.   Yadavendra Tirtharu did the pooja of Ramachandra Devaru and handed over the Sri Garudavahana Lakshminarayana devaru to Rayaru and went to have the darshana of Sudheendra Tirtha's Vrundavana at Navavrundavana.
Rayaru who had taken the peetadhipathwa offered the peetadhipathwa to the senior pontiff by offering the mooda Rama idols.  But Yadavendra Tirtharu refused to take the peetadhipathwa and continued with his piligrimage.
After some time, he entered Vrundavana @ Mudamalu on the banks of  Krishna river.
(Source – Kaliyuga Kalpataru)